If you run an e-commerce website on WordPress, you know how important it is to organize your media files neatly. You probably have hundreds or thousands of images, videos, PDFs, and other files you need to upload, manage, and display on your site.
But the default WordPress media library is not very user-friendly or efficient. It does not allow you to create folders or subfolders, sort your files by different criteria, or easily find the files you need. You end up with a messy and cluttered media library that slows down your site and makes it hard to update your content.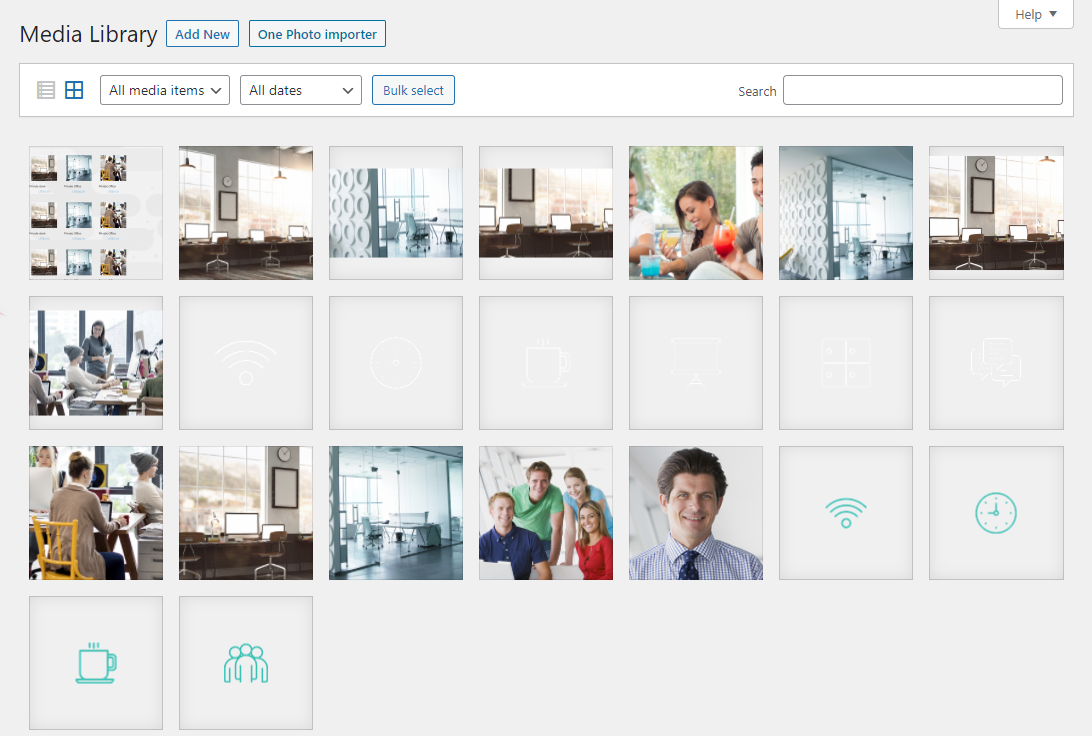 That's why you need a WordPress media folder plugin. But which media folder plugin should you choose? There are many options available on the market, but not all of them are equally good. Some are more feature-rich, some are more compatible, some are more affordable, and some are more user-friendly.
To help you make an informed decision, we have compiled a list of the 5 best WordPress media folder plugins for your e-commerce site. We will compare them based on their features, pros and cons, and key factors. Let's get started!
What is A WordPress Media Folder Plugin?
A media folder plugin lets you create folders and subfolders for your media files, drag and drop them into different categories, and filter them by various attributes. You can also rename your files, replace them with new versions, and delete the ones you don't need anymore.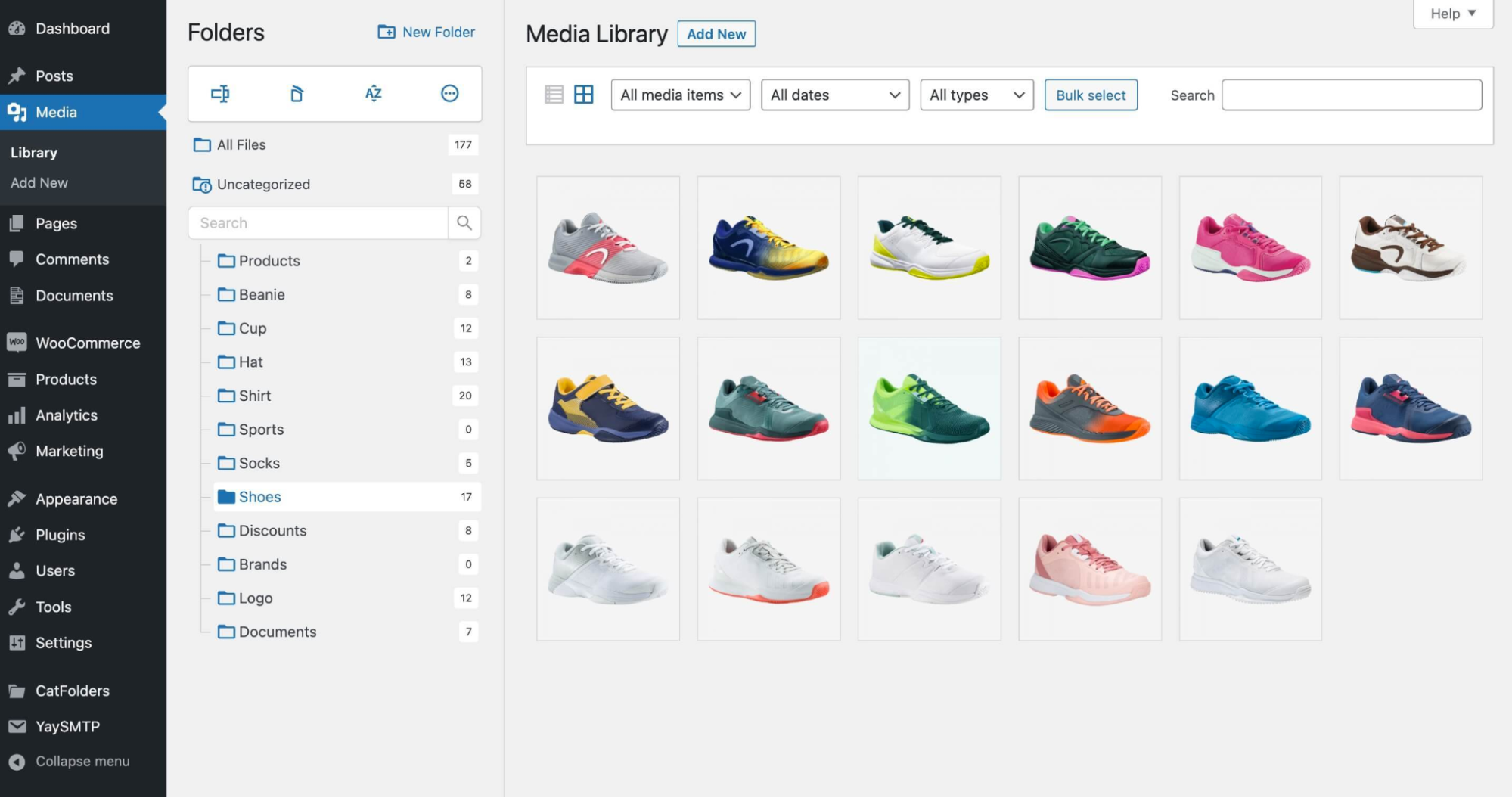 A media folder plugin can help you improve your site's performance, SEO, and user experience. It can also save you a lot of time and hassle when managing your e-commerce site.
How to Choose the Best WordPress Media Folder Plugin for E-commerce?
As you can see, many WordPress media folder plugins are available for e-commerce websites. But how do you choose the best one for your needs? Here are some factors to consider:
Compatibility:

 Make sure the plugin is compatible with your website's WordPress version, theme, and other plugins. You want to avoid conflicts or errors affecting your site's performance or functionality.

Features

: Compare different plugins' features and see which offers the most value for your money. You may not need all the features some plugins offer, so choose the one that best suits your requirements.

Support

: Check the reviews and ratings of the plugin and see how responsive and helpful the developers are. You may need their assistance if you encounter any issues or have questions about the plugin.

Updates

: Look for a plugin regularly updated and maintained by the developers. This ensures the plugin is secure, bug-free, and compatible with the latest WordPress standards.
To help you decide, we have compared 5 of the best WordPress media folder plugins for e-commerce websites. We hope this comparison will help you find the best WordPress media folder plugin for your e-commerce website.

CatFolders is a premium WordPress media folder plugin that lets you organize your media files into unlimited folders and subfolders. Using a drag-and-drop interface, you can easily create, rename, delete, and move folders. You can also sort your files by name, date, size, or type.
CatFolders is compatible with WooCommerce, Elementor, Divi, WPBakery Page Builder, Gutenberg, and other popular plugins and themes. It also supports multisite networks and multilingual sites.
This easy-to-use WordPress media folder plugin has unique features distinguish it from other media folder plugins. CatFolders enable you to:
Configure User-Based Folders, which allow each WordPress admin user to have specific control over the folders and folder permissions.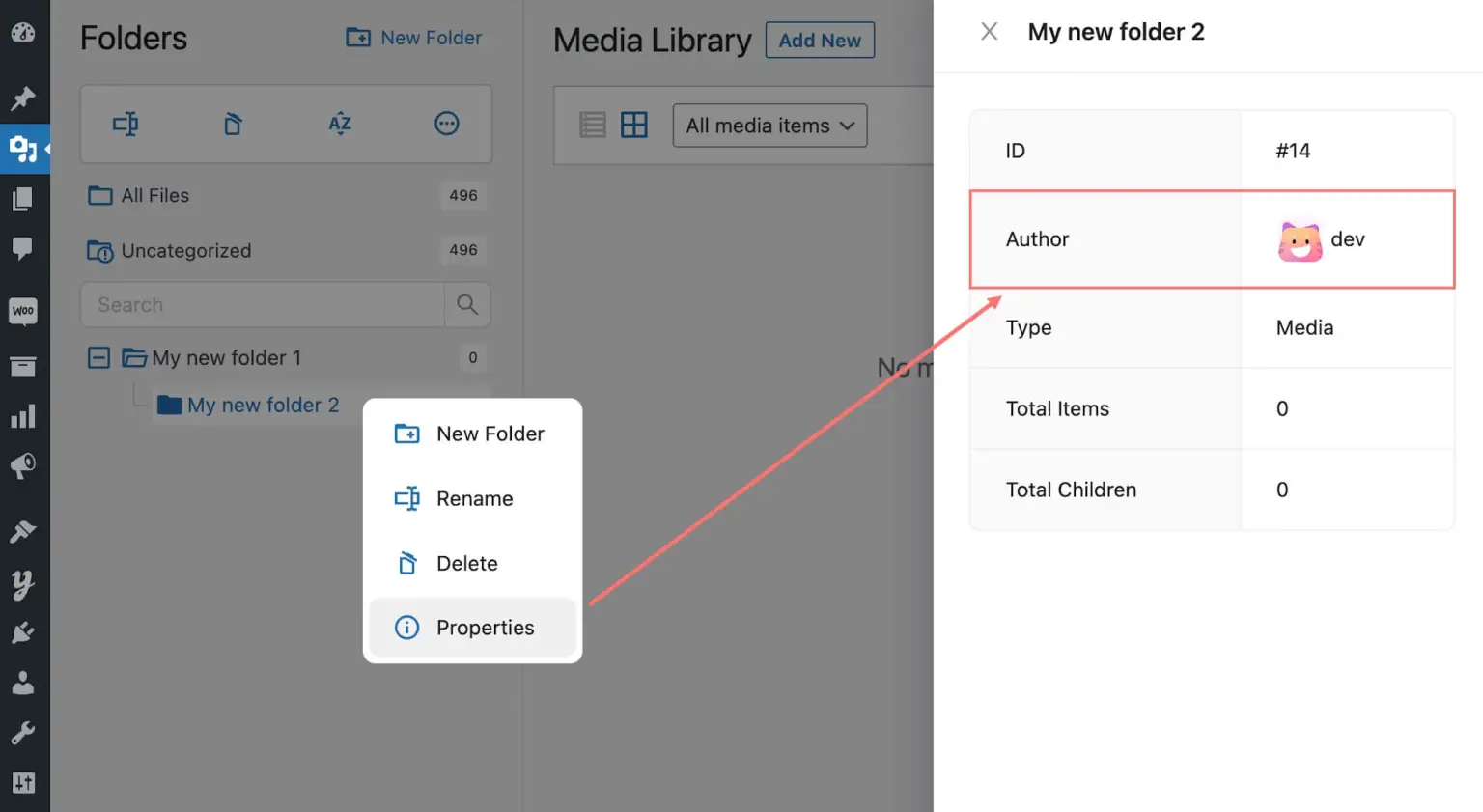 Sync your folders with your physical server folders. Any changes in your WordPress media library will be reflected in your server folders and vice versa.

Import and export your folders between different sites. This is useful if you want to migrate or clone your site or share your folder structure with other users.

Choose from an exclusive pricing plan which involves One-time payment options or even Unlimited Websites.

Sort files by file name, modified date, author, created date, newest or oldest, etc.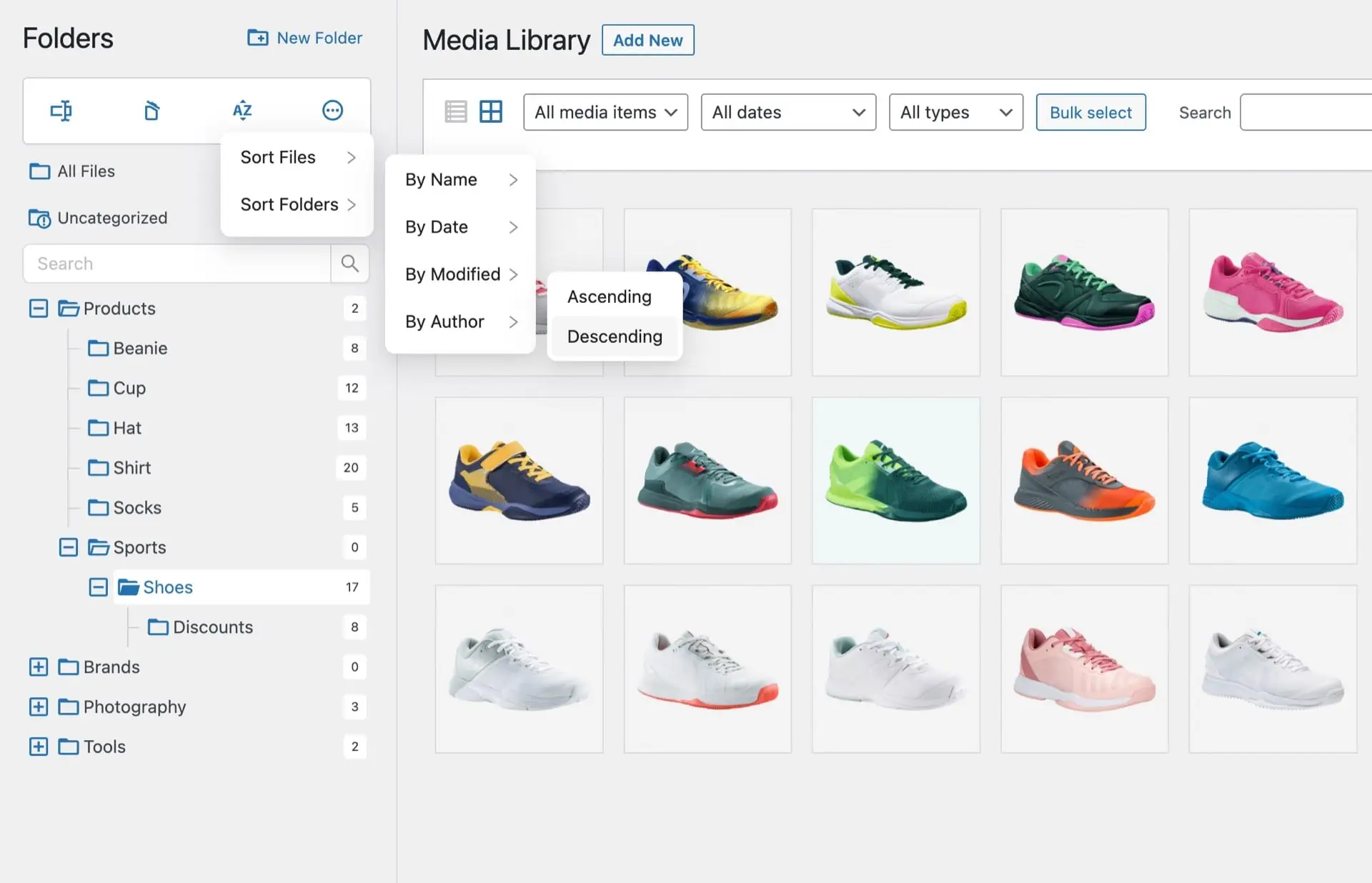 Pros
Find and sort files in no time

User-based role settings

Unlimited folders and subfolders

Drag and drop interface

Sync with server folders

Import and export folders

Compatible with popular plugins and themes

Lifetime license available

Advanced sort options

Easy to add images to the product gallery
Cons
No file replacement feature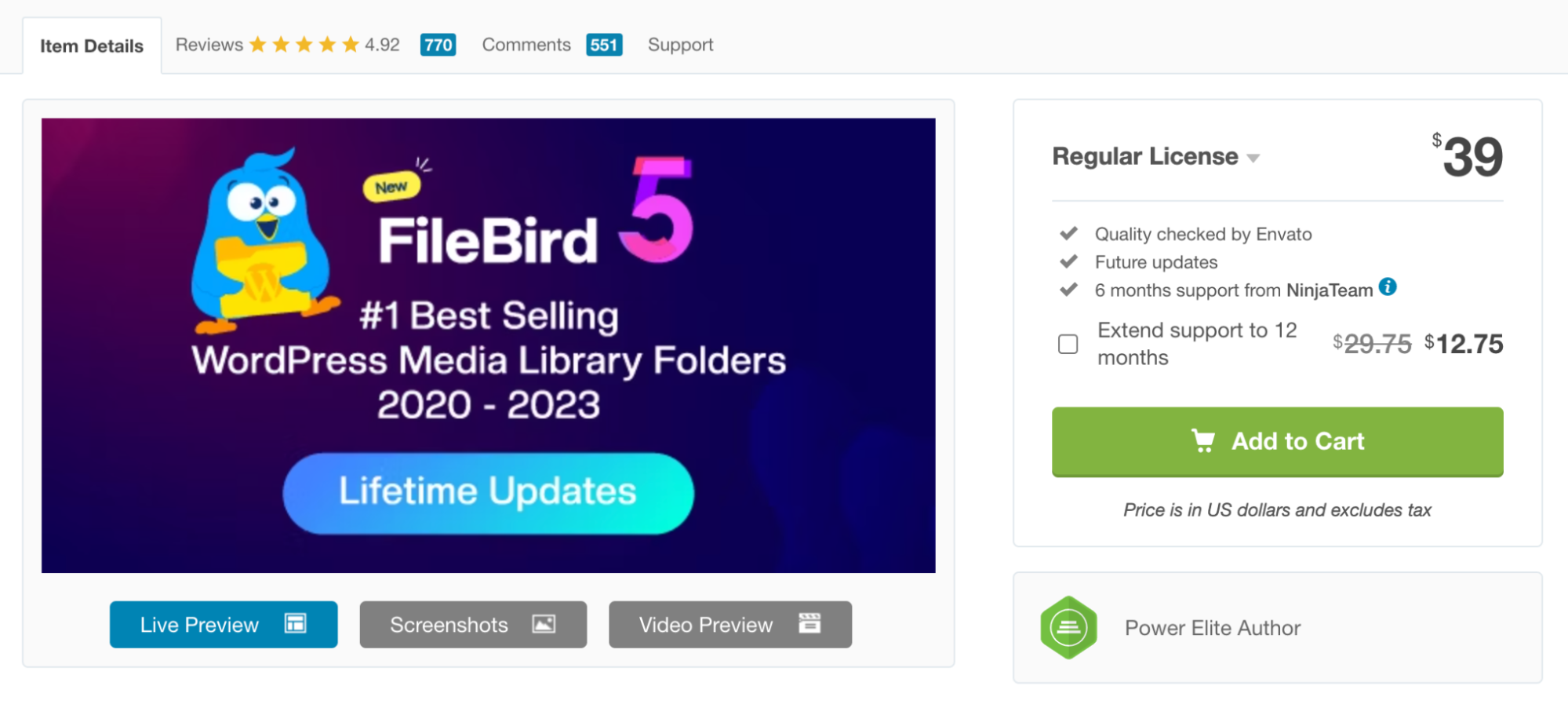 FileBird is a WordPress media library folders plugin widely regarded as the best tool for organizing your WordPress media library with folders. It boasts various features that enhance the user experience, including a sleek user interface, native icons, drag-and-drop functionality, a dynamic gallery, advanced sorting options, and improved organization.
The free version of FileBird allows users to create unlimited main folders and subfolders. However, with FileBird Pro, users can save time on media management, search for any files and folders, sort them out, add a product image gallery, download/export media folders, and much more. 
These features are designed to boost your admin workflow and increase productivity.
FileBird offers advanced features that elevate its status as a powerful media folder plugin. For instance:
NEW – Folder Tree Themes

: Transform the traditional gray shade of folder icons into a Dropbox theme or Windows 11 styling.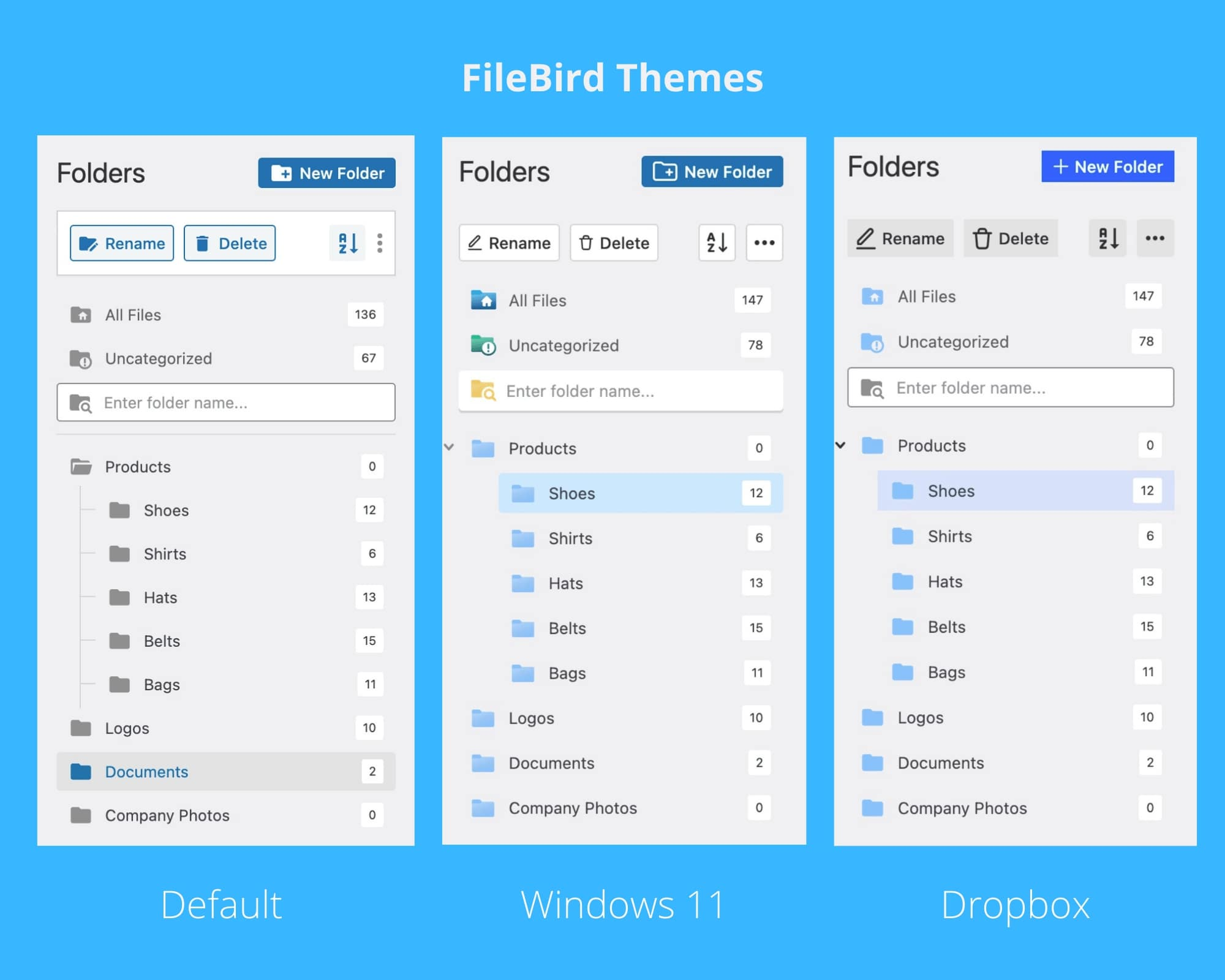 Download Media Folder: Export an entire media folder, including its subfolders and files, in a single ZIP file while maintaining the same folder structure. This feature allows for easy backup of categorized media files.
Smart Startup Folder: Choose a specific or previously opened folder upon startup, saving time and allowing quicker access to work.
Custom Folder Colors: Simply right-click on a specific folder to select a unique color, making distinguishing it from other folders easier.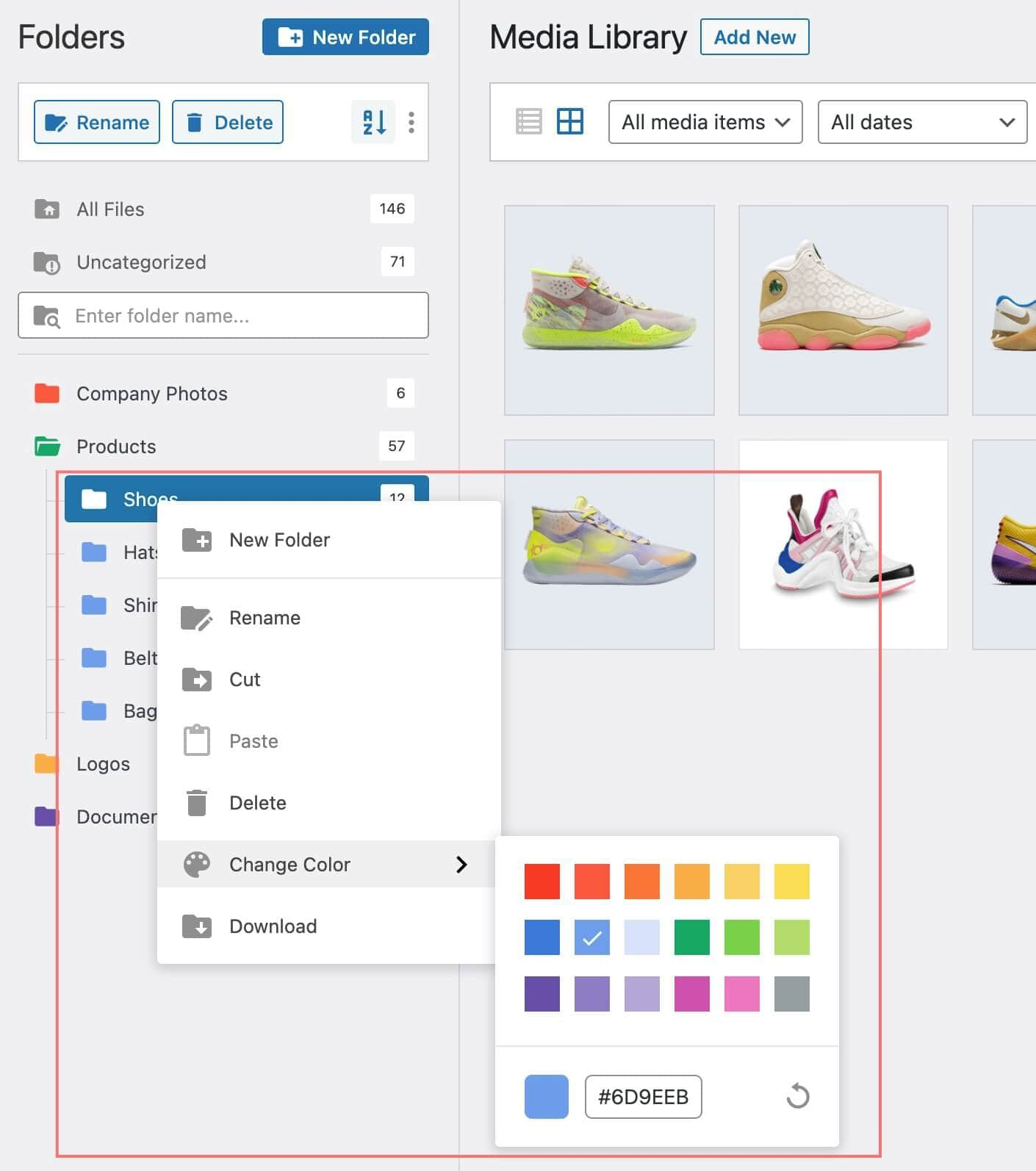 Multiple Tree View Styles

: In addition to the hierarchical tree view, you can also hide levels from the tree view. 

Multi-Language Support

: This plugin is compatible with numerous popular languages, including English, Spanish, Italian, French, German, and RTL Language Support.
Pros
Folder Tree Themes 

Download Media Folder

Smart Startup Folder

File Relocation

Smart Context Menu

Full Control In One Toolbar

Painless Migration

Export Folders Organization

User-Based Folder View

Powerful Search Feature

Go advanced with 2 ways to sort folders and 10 ways to sort files

Custom Folder Colors

Multiple Tree View Styles

Customizable Default File Order

RTL Supported, Many Languages Supported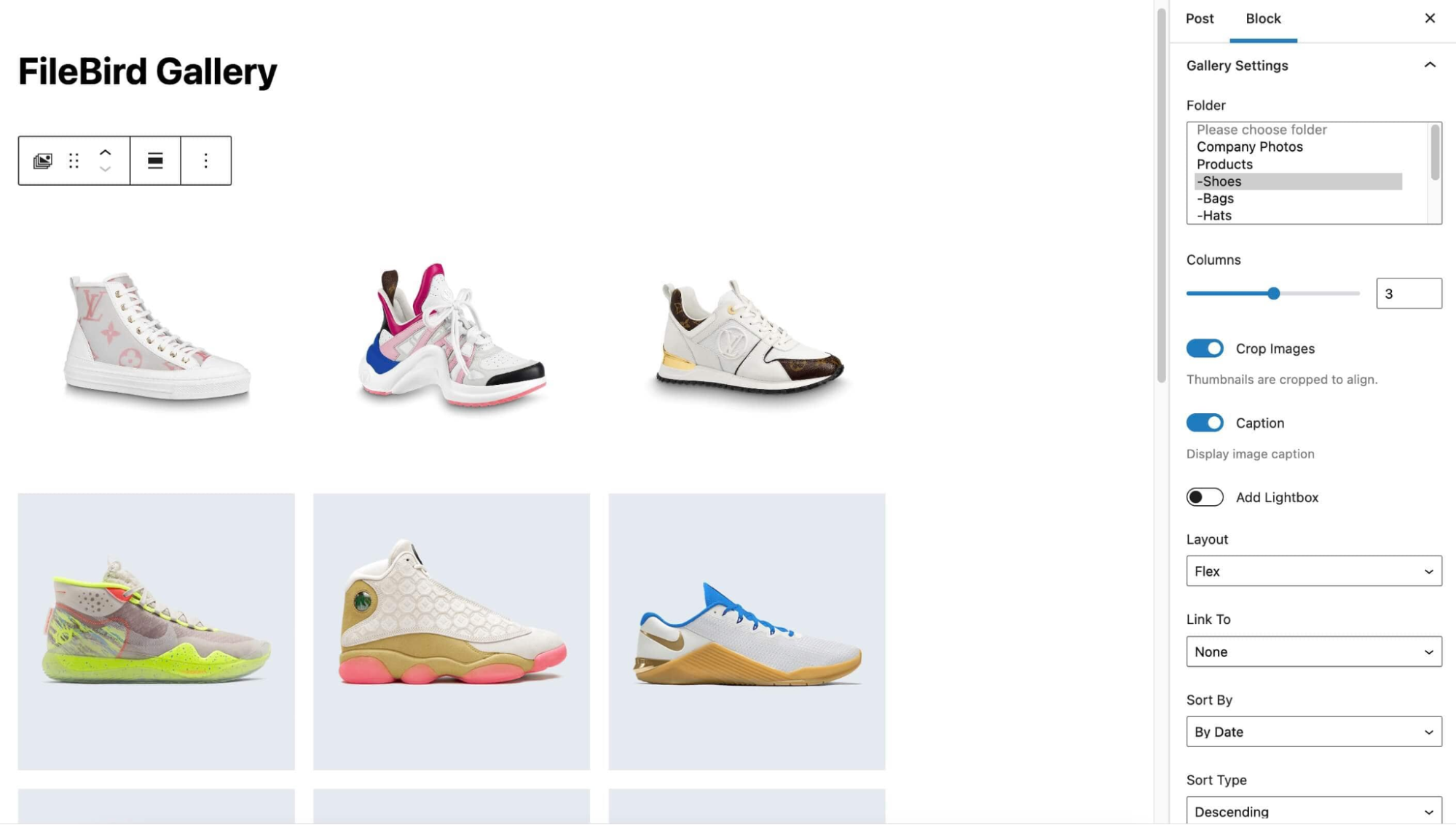 Cons
No one-time payment options and unlimited-site plan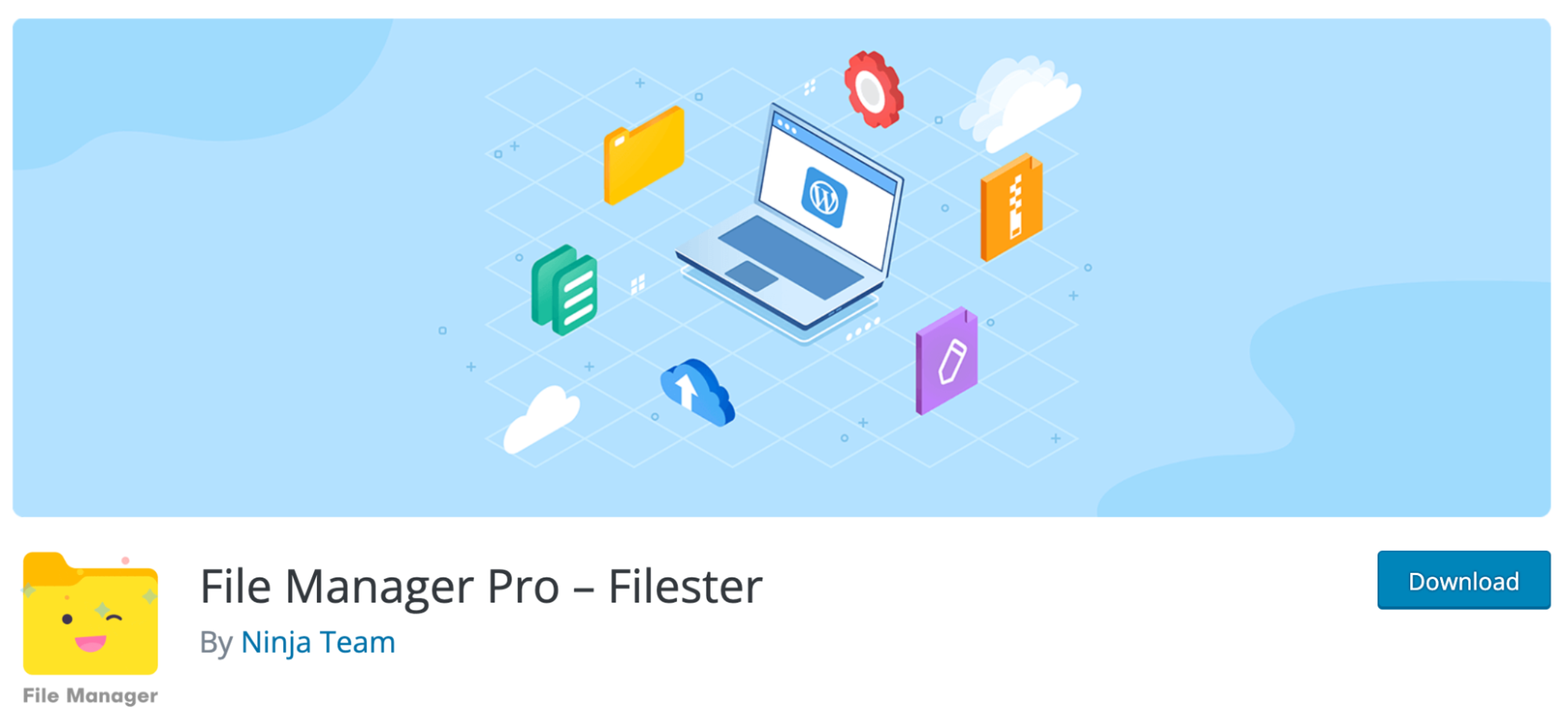 Filester is a WP File Manager Pro plugin that can be downloaded and used completely free of charge. It offers all the premium features of other advanced file manager plugins available for WordPress.
Filester is a powerful tool for managing your WordPress configuration files, while FileBird helps you manage your media library folders by allowing you to upload, download, and organize your files.
This file manager plugin is designed to optimize your productivity when managing WordPress. All the necessary file operations have been thoroughly tested on various servers and browsers to ensure optimal functionality.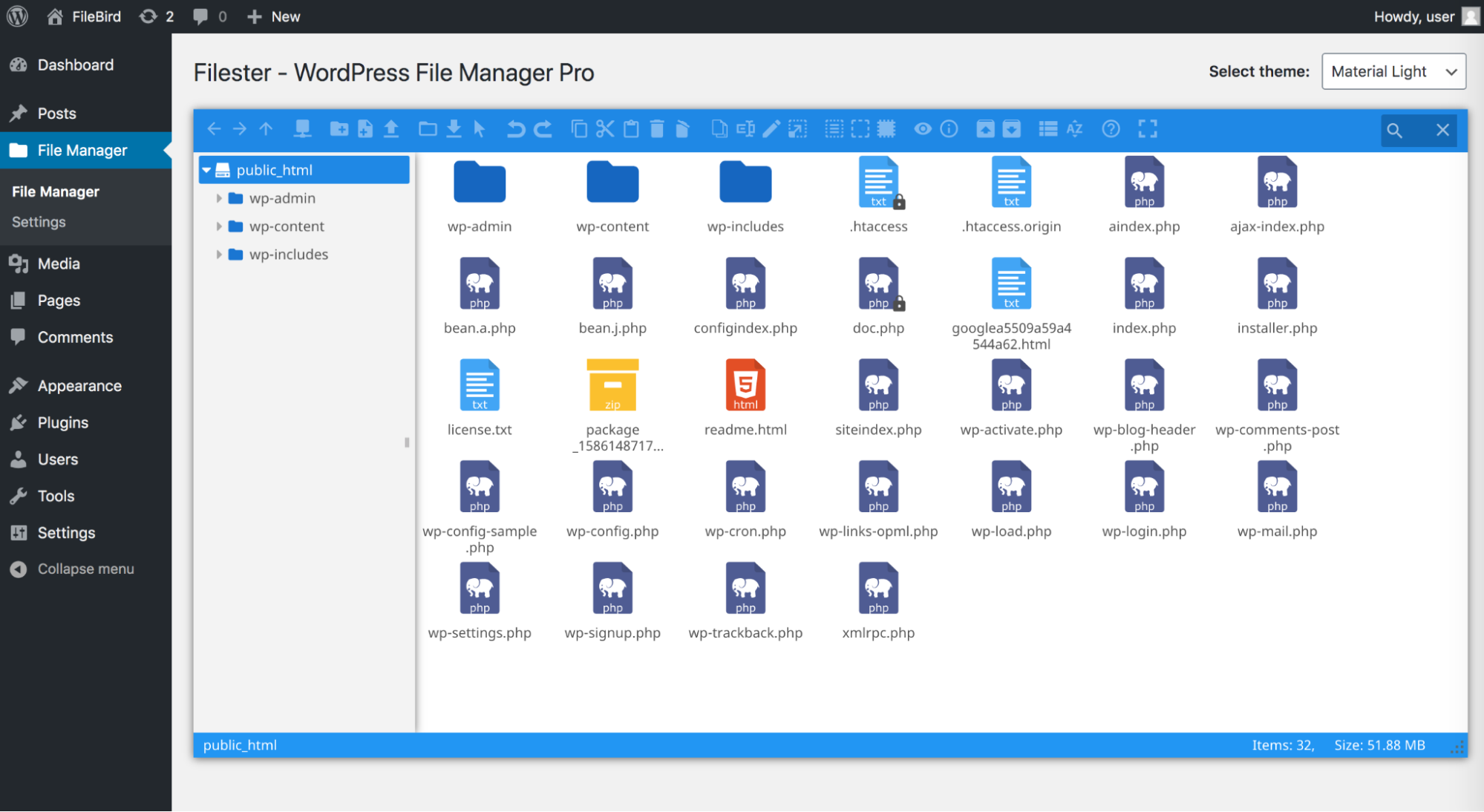 This file manager plugin is specifically designed to enhance your productivity in managing WordPress. All necessary file operations have been fully provided and tested on various servers and browsers.
Filester boasts a range of advanced functionalities that render it a highly potent media folder plugin. These include:
Smart context menu

: easily access a range of file operations by right-clicking on any files

Integrated advanced code editor

: utilize popular development environments such as ACE Editor, CodeMirror, CKEditor, TinyMCE, and more

Flexible configuration options: set access rights, uploadable file types/extensions, maximum file size limit, customer upload file, and more
Archive creation and extraction capabilities

: create and extract archives in .zip, .rar, .xz, .tar, and .gzip formats

User authority settings

: granting users the ability to lock file extensions, oversee file visibility, and access the root path and the .htaccess file.

Edit media files

: leveraging Photopea and TUI Image Editor to enable users to edit media files.

Multilingual support

: Filester has been designed to support a broad range of languages, including but not limited to English, German, Spanish, Italian, French, and Japanese.

RTL support

: Filester offers full support for languages that require right-to-left (RTL) script, such as Hebrew, Arabic, Persian, and Kurdish.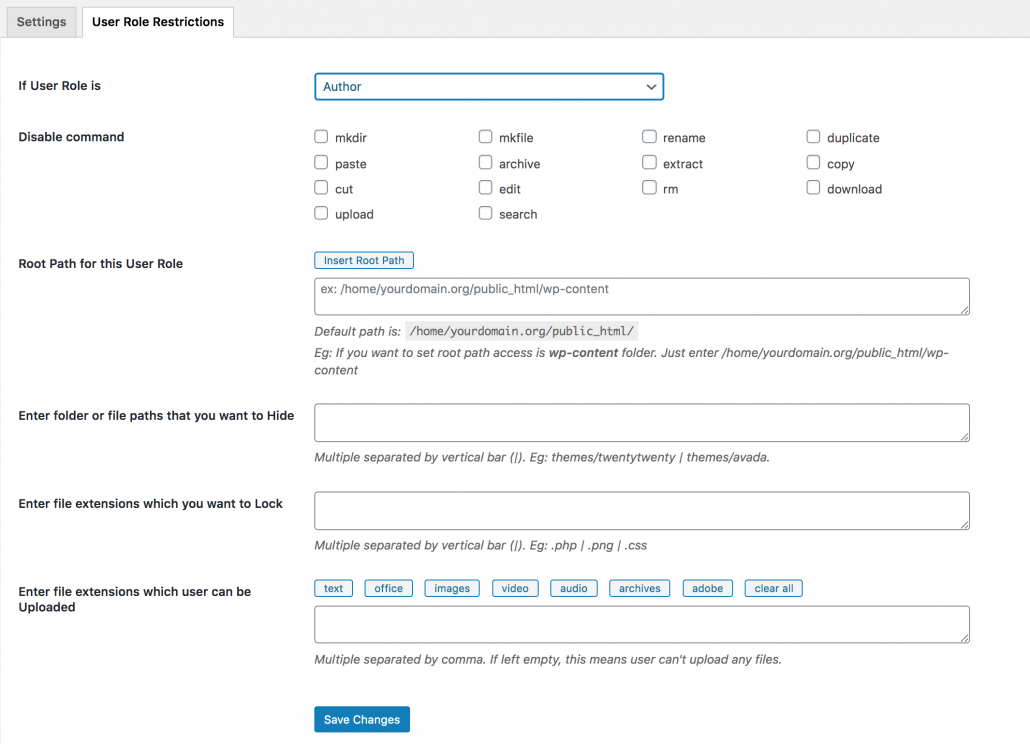 Pros:
Root path customization for each user role

User-friendly navigation

Option to hide files and folders

Ability to set hidden files for other users

Six themes are available to customize the interface.

Local file system integration

Simple client-server API that utilizes JSON

Icon and list views for ease of use

Multi-root support
Cons
Other site users can intervene with your settings if the user role permissions are not set in the File Manager.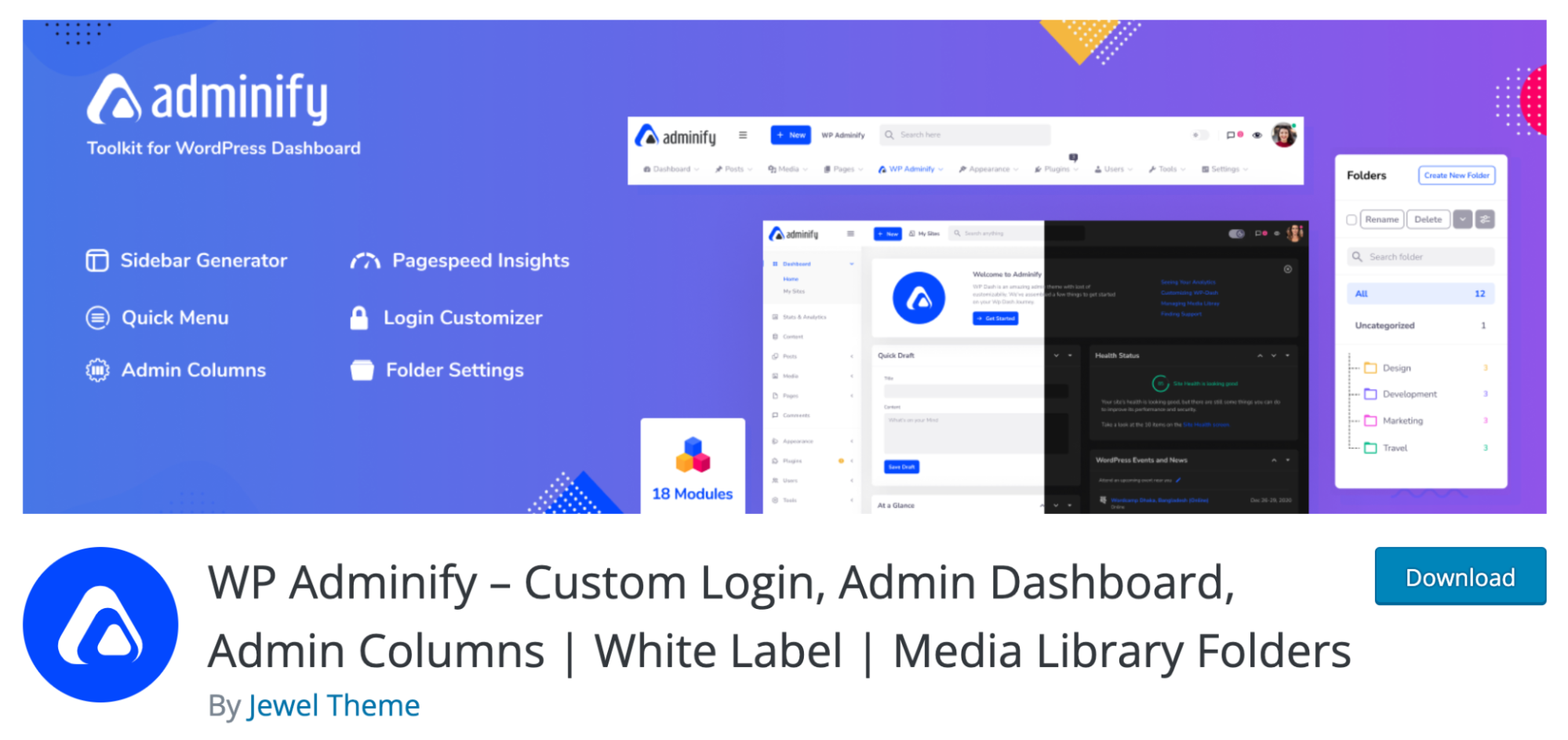 WP Adminify is a WordPress media folder tool that can enhance the customization experience of the WordPress Dashboard. It offers over 20 different modules, which include the Media Folder, Login Customizer, Menu Editor, Admin Columns, Activity Logs, Disable Admin Notice, WordPress White Label, Admin Page, Google Pagespeed Insights, Custom CSS/JS, and many others. 
WP Adminify has some exclusive features that make it a versatile media folder plugin:
An ideal choice due to its lightweight size (4MB) and Multiple Dashboard UI Templates

Include pre-built templates that are available for your dashboard.

Apply a setup wizard that makes it easy to enable or disable all necessary modules, define your website's logo, and more.

Google Pagespeed Insights: Improve your page speed by ps you to find out issues for better performance.

WordPress Dashboard White Label: Customize your WordPress dashboard to create a minimalistic back end.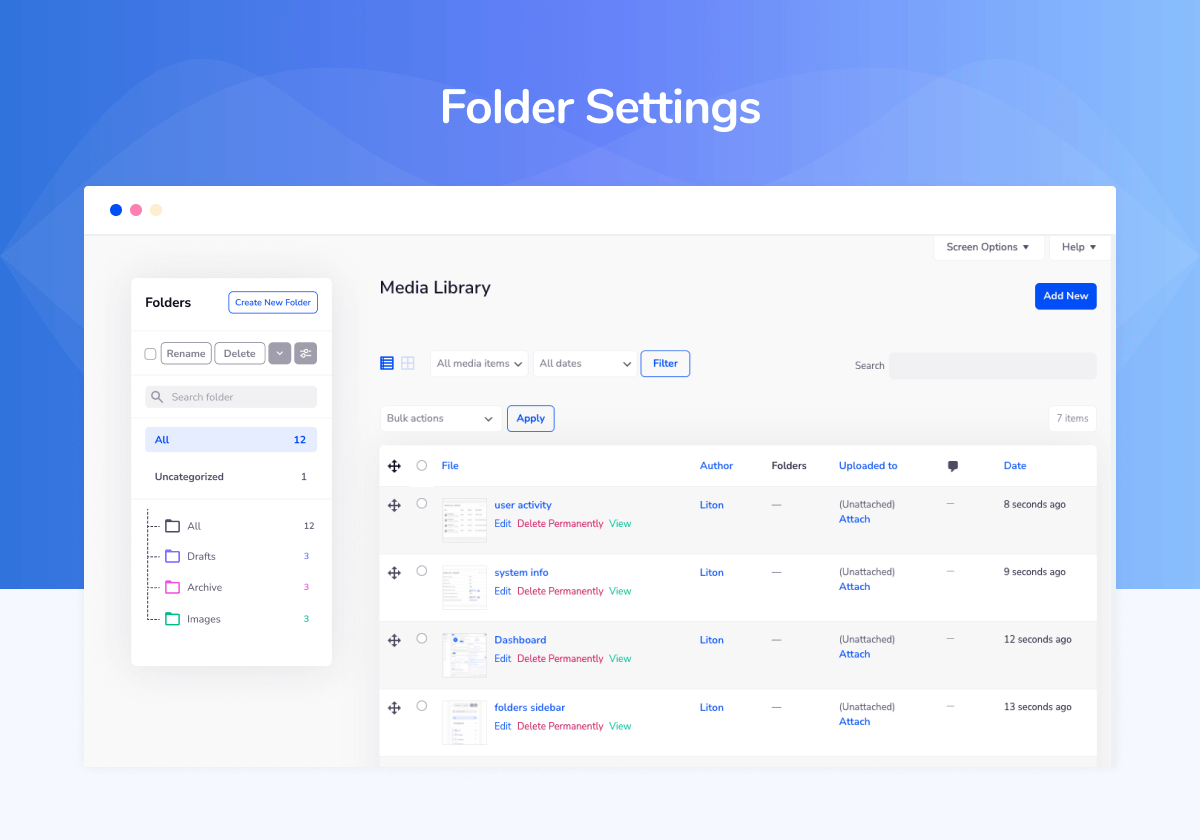 Pros
Easily change the color scheme of your WordPress Admin area.

This Folder plugin will organize all your content, including media, posts, pages, products, music, photographs, portfolios, and services.

Manage the columns in your WordPress admin area easily with Admin Columns Customizer

Protect your admin login page by changing its URL with this easy-to-use feature.

Customize the WordPress admin menu dashboard to suit your needs with the Admin Menu Editor.

Duplicate existing WordPress menus or menu items with ease.
Cons
Advertising pop-ups that may annoy you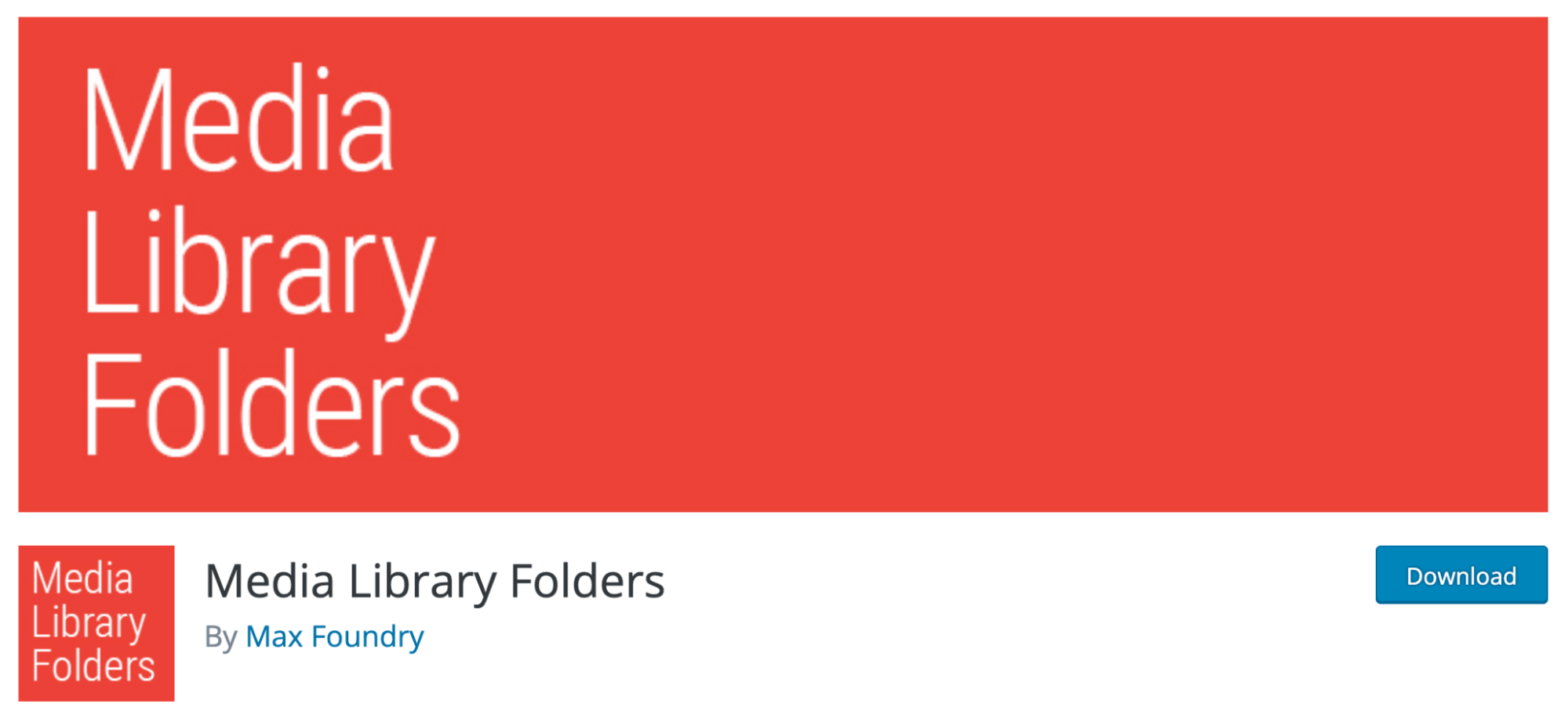 The Media Library Folders plugin creates real folders within your WordPress Media Library. These actual folders simplify the organization of your media library and reduce server load. 
Media Library Folders By Max Foundry has unique features that distinguish it from other media folder plugins.
Add and create new media library folders to label and organize your files as desired rather than relying solely on the default month and date format. 

Easily move, copy, rename, and delete files and folders. You can also sort your files by name, date, size, or type.

Regenerate thumbnails and optimize images for search engines by specifying ALT and TITLE attributes during upload. 

Synchronize the folders and files when you move or upload a folder via FTP.

Create a MaxGalleria gallery.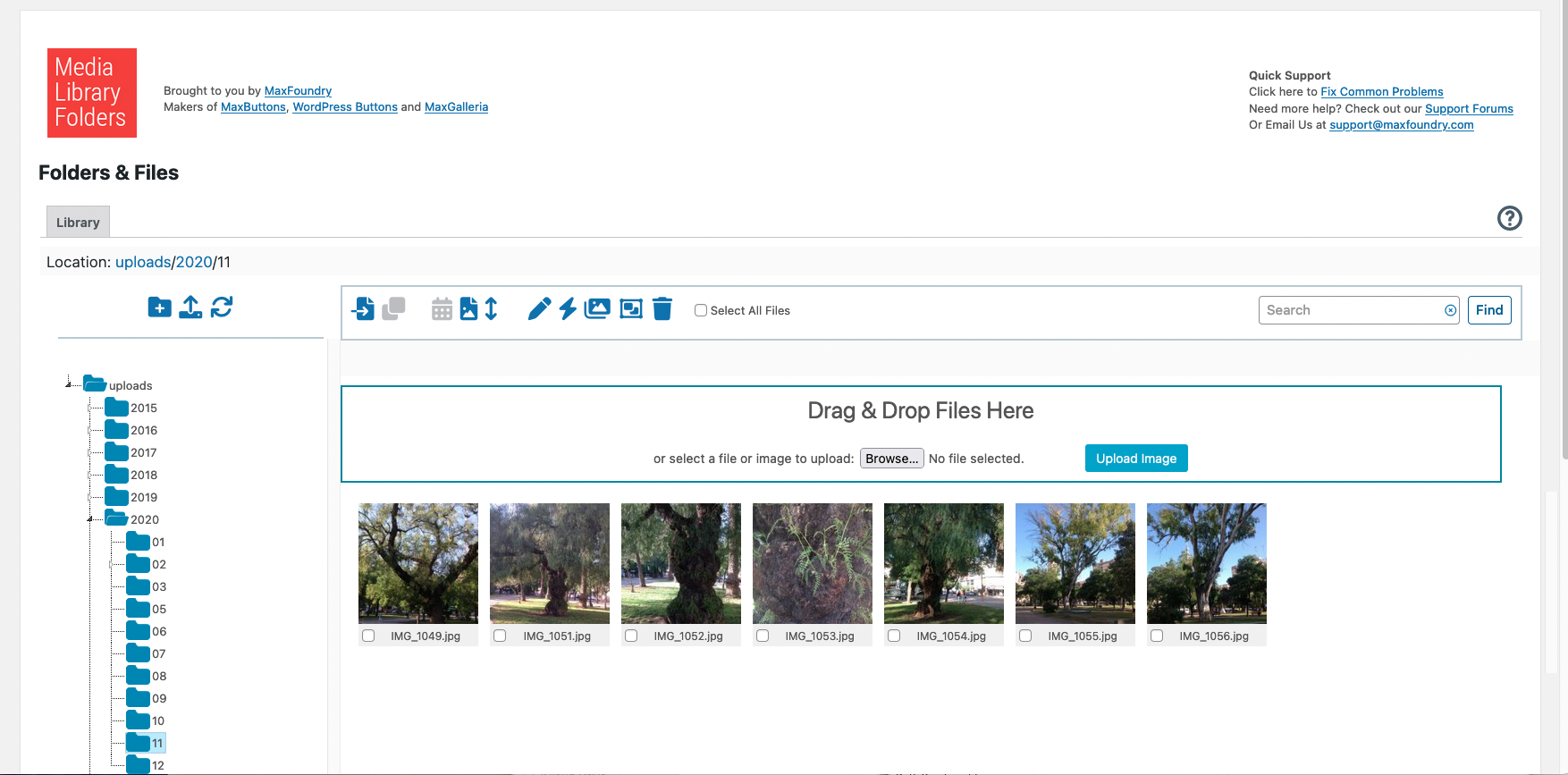 Pros:
Integration with MLFs allows users to select and add images to their posts and pages from the editor.

Users can categorize and organize media library folders.

Categories in Enhanced Media Library and Media Library Folders Pro are interchangeable.

MaxGalleria and NextGEN Galleries can be created directly from MLF folders.

Support Advanced Custom Fields.

File Name View Mode can be used to locate images in large folders.

Users can add images to a WooCommerce product gallery.

Regenerate Thumbnails feature.

Override the Image SEO default settings when you are uploading new images.

Compatible with WooCommerce, Elementor, Divi, WPBakery Page Builder, Gutenberg, and other popular plugins and themes. 

Support multisite networks and multilingual sites.
Cons
Free version lack of features
Conclusion: What is the Best WordPress Media Folder Plugin?
We hope you found our list of the 5 best WordPress media folder plugins helpful for your e-commerce site. We took the time to compare their features, pros and cons, and key factors so you can make the best choice. 
We highly recommend CatFolders as it is the most cost-effective yet ultimate WordPress media folder plugin designed to simplify your media management.
On the other hand, your business requirements may vary, so just choose from the best plugins below which may fit your specific need:
FileBird

: An all-in-one media and file management plugin that's easy to use and highly functional.

Filester

: The best free WordPress configuration file management plugin that offers powerful features for no cost.
Do you know of any other cool plugins that we missed? Share them with us in the comments below!