Are you tired of feeling like a detective trying to crack the code of the best deals while shopping? Imagine having a trusty companion by your side – a unit pricing calculator that helps you unveil the hidden savings gems. With a unit pricing calculator, you can navigate the labyrinth of prices effortlessly, compare products based on their actual value, and emerge as a victorious saver.
Say goodbye to overspending and welcome to a world where every dollar is stretched further. In this guide, we'll unlock the secrets of effectively using a unit pricing calculator, empowering you to become a savvy shopper and save more money with each purchase.
Prepare to embark on a shopping adventure where the unit price reigns supreme! Here are some steps to help you effectively use a unit pricing calculator and make informed purchasing decisions:
Understand the Concept of Unit Pricing
Unit pricing is a way to compare the cost of products based on a standardized unit of measure. For example, if you're buying a can of soup, the unit price would be the cost per ounce or pound.
You can determine which option offers the best value by comparing the unit prices of different products or package sizes through WooCommerce variable pricing. It allows you to see beyond the total price and evaluate the cost relative to the quantity or size of the product.
Choose a Unit Pricing Calculator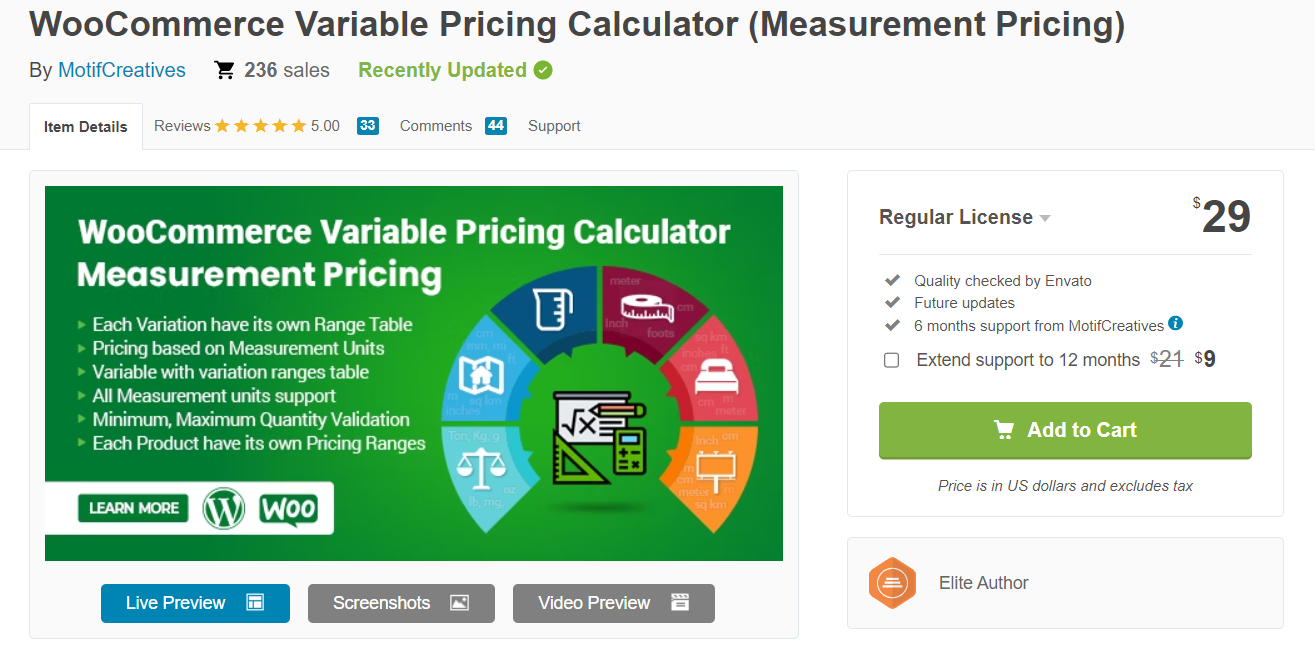 Several unit pricing calculators are available, both as mobile apps and online tools. You can search online or check your mobile app store to find a suitable calculator.
Look for calculators that have a user-friendly interface and allow you to input product details and prices easily. Reading user reviews can help you gauge the reliability and usefulness of a particular calculator.
The WooCommerce Variable Pricing Calculator & Measurement Pricing plugin by motifcreatives is designed to enhance the pricing functionality of your WooCommerce online store.
Dynamic Pricing: This plugin allows you to set up dynamic pricing rules based on various factors such as product measurements, quantities, or attributes. You can offer different prices for different variations of a product.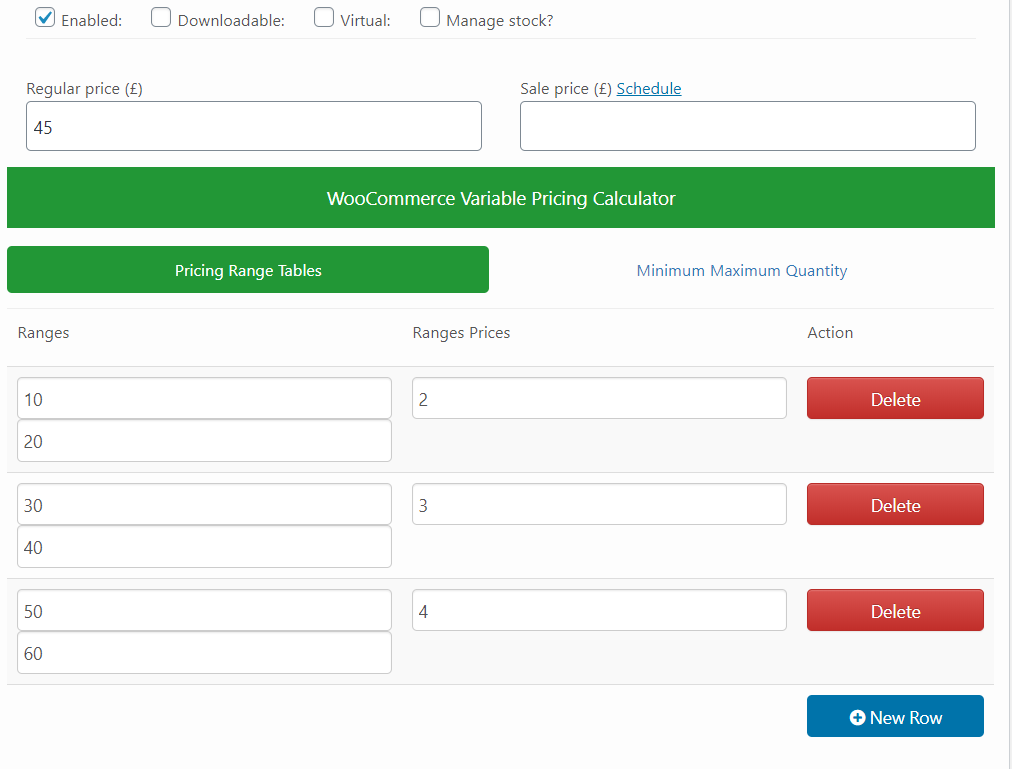 Measurement-Based Pricing: With this feature, you can define pricing based on measurements such as length, area, volume, or weight. It enables you to price your products accurately based on their specific measurements.

Quantity-Based Pricing: You can set up tiered pricing based on the quantity of products ordered. For example, you can offer a lower price per item when customers purchase a larger quantity.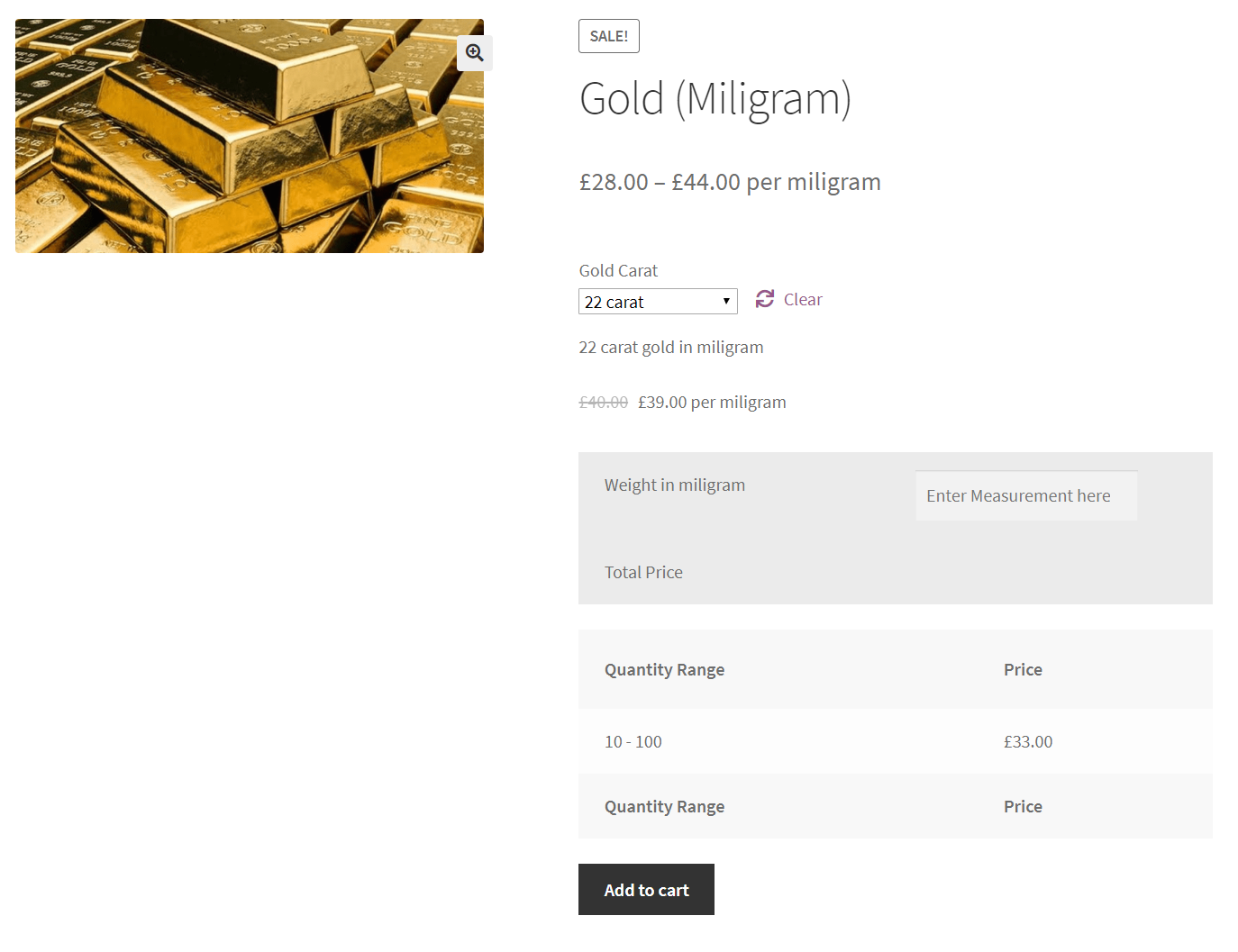 Customizable Calculations: The plugin provides a flexible calculation system where you can create your own formula for determining the product price. This allows you to customize pricing calculations according to your specific business needs.
Variable Options: You can create product variations with different attributes (e.g., size, color, material) and assign unique prices to each variation. This feature enables you to offer a wide range of options to your customers with different prices attached.
User-Friendly Interface: The plugin provides an easy-to-use interface within the WooCommerce settings, making it accessible even for non-technical users. You can configure and manage your pricing rules conveniently through a user-friendly dashboard.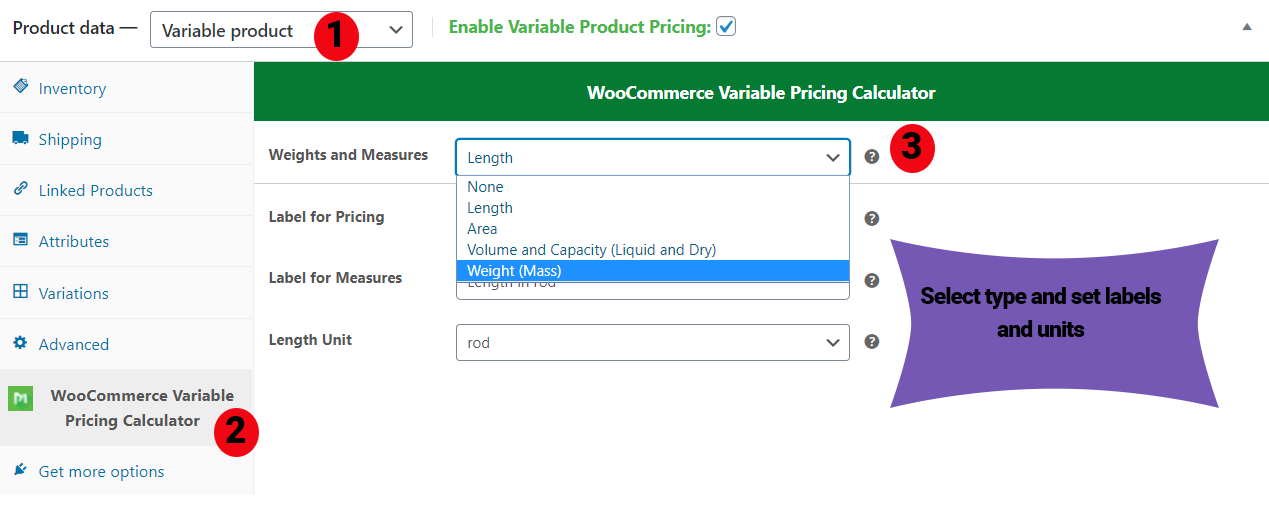 These features combine to provide you with a powerful tool for managing and customizing product pricing in your WooCommerce store, ensuring that you can offer competitive and flexible pricing options to your customers.
Familiarize Yourself with the Calculator
Once you've selected a unit pricing calculator, take some time to understand its features and how it works. Most calculators require you to input the product name, size (e.g., weight, volume), and price.
Some calculators may have additional fields to input relevant information like discounts or promotions. Familiarize yourself with these features so that you can use the calculator effectively.
Start by selecting two or more products that you want to compare. Look for the unit price information on the store's product label or shelf tag. The unit price is usually displayed alongside the total cost and the size or quantity of the product.
Once you have the unit prices in the paint calculator plugin, enter the product details (name, size, price) into the unit pricing calculator. The calculator will then calculate and display the unit price for each product, allowing you to compare them directly. This comparison will help you determine which option offers the best value for your money.
Consider Your Needs and Preferences
While unit pricing helps you find the best value, it's essential to consider your specific needs and preferences. For example, buying in bulk may offer a lower unit price, but it may not be the most cost-effective option if you don't consume or use the entire quantity before it expires.
Consider factors such as your consumption rate, storage capacity, and product shelf life when evaluating the value of different options. It's essential to strike a balance between cost savings and practicality.
While unit price is essential, it shouldn't be the sole factor in your purchasing decision. There are other aspects to consider. For instance, consider the quality of the product and the brand reputation.
Sometimes paying a slightly higher unit price for a trusted brand can provide more value in terms of product reliability and customer satisfaction.
Also, pay attention to expiration dates or freshness indicators, especially for perishable items. Considering these factors alongside unit pricing will help you make more informed decisions.
Keep a Record of Your Findings
If you frequently shop at the same store or purchase the same products regularly, keeping a record of the unit prices you discover can be helpful. You can track and compare prices over time by maintaining a simple spreadsheet or using note-taking apps.
This record can reveal patterns or trends, enabling you to make better-informed decisions in the future. It also helps you identify the best time to stock up on certain items with lower prices.
Be Mindful of Sales and Discounts
Unit pricing calculators can be handy during sales or when using discounts and coupons. When items are on sale, the total price may be lower, but verifying the unit price is essential to determine if it genuinely offers better value.
Enter the adjusted prices into the calculator to find the unit price and compare it with regular-priced items or other brands. This way, you can make sure you're getting the best deal, taking both the discount and unit price into account.
Practice Comparison Shopping
Once you have the unit prices calculated, take the extra step to compare them across different stores or online platforms.
Prices can vary significantly between retailers, and you may discover even better deals or promotions elsewhere by conducting a quick comparison.
Don't limit yourself to a single store—explore your options and choose the one that offers the best overall value. Comparison shopping ensures you make the most cost-effective decisions and maximize your savings.
Takeaway
Harnessing the power of a unit pricing calculator can revolutionize your shopping experience and lead to significant savings.
By understanding the concept of unit pricing, choosing a reliable calculator, and familiarizing yourself with its features, you lay the foundation for making informed purchasing decisions. Comparing unit prices allows you to go beyond the surface-level cost and evaluate the actual value of products.
However, it's essential to consider your specific needs and preferences and other factors such as quality, brand reputation, and expiration dates. Keeping a record of your findings and being mindful of sales and discounts further enhances your ability to save money.
So, armed with a unit pricing calculator, you can embark on a journey of more intelligent shopping, making every dollar count and achieving more for less. Start using a unit pricing calculator today and unlock the door to a world of savings!