You need a website for your business. But building a business website is a challenging thing. The design must look good. Customers want to be easy to navigate. You sure want to be optimized for search engines. And it would help if you protect yourself from spammers and Make life easy for your customers with these WordPress plugins installation.
The list goes on and on.
So how do you do all that and more?
With the help of WordPress, of course. WordPress is the world's favorite content management system (CMS). It is so popular that users post 17 posts every second on WordPress sites worldwide.
And if you're using WordPress for your website, you're in a good direction. This is not surprising. WordPress is awesome.
First, it is "open source and free." This means the source code is free, and you can change and rearrange it as you wish.
This makes WordPress a scalable and dedicated website builder and content manager. But here's the fun part.
Thousands of ready-made plugins are available that you can use to design your website; WordPress also allows you to install premium plugins.
Plugins are applications that you can use in WordPress. They allow you to add new functionality to your site. For instance, you can engage your users by creating engaging quizzes with the best WordPress personality quiz plugin and you need them.
Plugins help you optimize your site for better user experience, security, and SERP ranking.
But there are more than 52,000 plugins in the official list. So where do you need it?
Every business has different needs, but there are some plugins that every online store should have, regardless of business type.
And so, what are you waiting for? Make life easier for your customers by using these WordPress plugins installation.
WooCommerce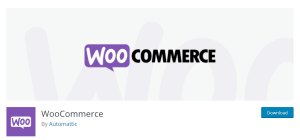 The WooCommerce plugin helps you create an online store with WordPress. It requires the WordPress operating system and turns it into a complete e-commerce store.
WooCommerce makes selling any product or service on your website easy and affordable. It allows you to sell digital and physical products, accept payments, manage accounts, and automatically calculate your taxes.
Most importantly, WooCommerce is integrated with WordPress since the same company, Automattic, owns wordpress.com.
You can extend the functionality of your WooCommerce store with plugins or extensions with free and paid plugins.
Let's explore some of the WooCommerce plugins below.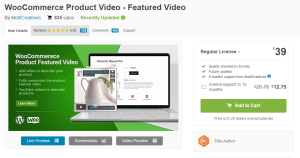 The WooCommerce Product Video plugin lets you add featured videos to your product pages. You can download or embed videos from YouTube, Vimeo, Dailymotion, or Facebook.
Add a featured video or embed multiple videos in your store. You can display featured images on listing pages and customize video images. Set a thumbnail for each product video to show a message before people click to play the video.
The WooCommerce Product Video extension allows you to replace displayed product images with videos. Favorite videos can be played in a pop-up window or from the same page.
You can add a WooCommerce product promotion video directly from the product management page in the back office.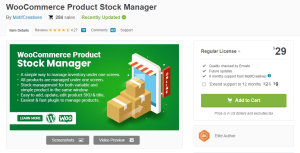 WooCommerce Stock Manager is a powerful WooCommerce plugin that allows you to easily manage your products and product changes with a simple menu.
You can filter the list by product type, category name, price, quantity in stock, stock status, etc. The warehouse manager maintains a log file so you can see sales changes.
The extension has a powerful dashboard that displays your current stocks and their prices. See low inventory, no stock, high stock, and loss information. This plugin allows you to search within your product-sharing account.
You don't have to visit every product page to see and change stock quantities. You can use the simple menu to change all sales, positions, prices, names, and other information.
The product manager has features to search, filter, and sort by name, price, quantity in stock, and more.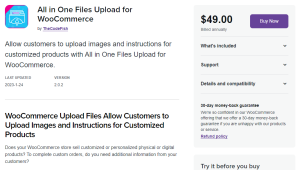 Allow your customers to quickly upload the file as an attachment to their order to specify their needs.
File upload for WooCommerce will help you enable this option on the product, cart, or checkout page. It will be easier for the administrator to understand advertising and customer needs.
The WooCommerce checkout file upload plugin integrates with the file upload option.
Accepts files of certain types and sizes. It also allows you to restrict the image to selected products, categories, and user roles.
WooCommerce customer file upload allows you to use the price per file upload to increase store selection.
It can be used as an extension to the product so that the customer pays for any advertising they request. You can also offer a discount on any file.
Custom Paint Variation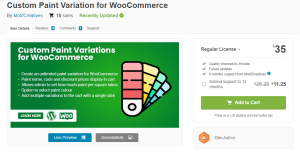 The Custom Paint Variation for WooCommerce allows you to create customized designs of colored products in various sizes with customized sales and prices.
You can also set how many liters are included and how much area is covered by a change amount. There is no limit to adding special paint options; you can add as much as you want for a particular product.
The plugin could also set discounts depending on user roles as a percentage—choice of colors in three categories: NCS, RAL, and standard.
Paint color codes can be set with price and hex code and then displayed on the product page. The plugin allows you to add at the same time many options to the vehicle with general information about the color name, code, and color variation.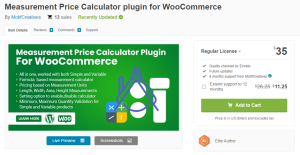 The measurement price calculator plugin allows you to add amounts and custom information.
This plugin allows you to list products sold per unit with a known size (such as a car and a square meter per box) or products priced in feet, square meters, cubic yards, kilograms, etc., using traditional materials (e.g., cloth).
Once you have determined the scale type, you want to calculate your price; then, you can set the cost to a specified amount (for example, the price based on a box of 12 tiles) or the price, allowing customers to enter their measurements (for example, line prices).
Two calculator modes (quantity-based and user-defined) are available for all measurement types, and you can switch between them by enabling or disabling the checkbox.
The quantity-based system allows the customer to enter the required products, and the calculator will calculate the quantity (e.g., boxes of tiles) needed to match or exceed the required size.
Through the user interface, you set the price per measurement (i.e., dollars per foot), and the customer enters the required measurements and then the total cost.
Conclusion
So, WooCommerce is your best option for creating a flexible and powerful eCommerce store. It runs on open-source WordPress software, which is used by many websites.
WooCommerce is efficient, powerful, and free. You can increase its power with the help of special WordPress plugins installation or third-party developers.
We recommend using the Astra theme and the CartFlows plugin to power your store. Astra helps you create a great-looking store and checkout pages optimized for conversions. CartFlows enables you to increase sales and reduce losses by tracking checkout and other methods.
Altogether, to provide the best e-commerce solution. Most of them are free. These financial options are just options, but each provides an easy return on investment.