You are considering the best WordPress eCommerce plugin to build your online store?
Choosing the right eCommerce plugin is important for your business because a better platform means more growth opportunities. Often, users lose money because they need to do the right research when choosing an eCommerce brand to open their store.
In this article, we will enlist the best WordPress eCommerce plugins. We will also explain their plus points to help you find which eCommerce plugin is suitable for your business.
Remember that using too many plugins can slow down the performance of your eCommerce store, so be sure to install only plugins that match your business goals.
WooCommerce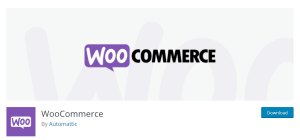 WooCommerce is on the top of the best WordPress eCommerce plugins. The main theme contains everything you need to create an eCommerce store. Extend the functionality of your WooCommerce store with free and customizable extensions.
This free plugin is compatible with physical, digital, and membership content, making it a one-stop solution for all businesses. A WooCommerce store can host physical and digital products simultaneously, giving you the tools to grow your business.
Many built-in WooCommerce plugins make it easy to add product listings to any part of your eCommerce store. For example, the All Products block shows all listings, while category products, new products, and top-selling products block your listings in collections.
The WooCommerce developers have created numerous plugins like WooCommerce product video plugin to promote Woo products effectively. Developers also customized the storefront WordPress theme to make it easy to set up a WooCommerce store. The theme also reduces the risks of incompatibility with other plugins and extensions.
Easy Digital Downloads (EDD)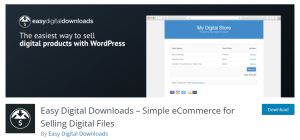 Easy Digital Downloads (commonly referred to as EDD) offers a simple and user-friendly interface for managing and selling digital products on WordPress. Yes, WooCommerce has this support, but EDD is more geared towards digital selling, and the interface is much cleaner.
Consider EDD and not another WordPress eCommerce plugin if you sell things like eBooks, PDF files, or audio files (but nothing physical). One of the reasons for the success of EDD is that the main installation is free. You install it on your website and immediately get a digital shopping cart with discounts and control access to files and activity codes.
You can create images and choose from EDD themes. As soon as someone buys a product on your website, the program sends them an email with a download link. Remember that EDD provides a complete shopping experience so you can process payments on your website and reduce the number of clicks needed.
BigCommerce for WordPress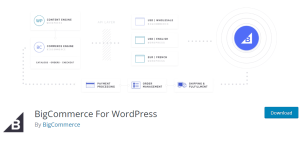 BigCommerce is one of the leading e-commerce platforms today, on the same list of top advertising platforms as Shopify. He recently launched an eCommerce plugin for WordPress that helps create a business solution that includes the WordPress CMS.
BigCommerce is a dedicated eCommerce platform that offers WordPress integration. This allows you to have an efficient e-commerce platform using WordPress to manage your content and website.
There is a powerful installation engine for WordPress that makes it very easy to install your products on WordPress. It automatically creates your login page, account, account, and other important pages.
WP Simple Pay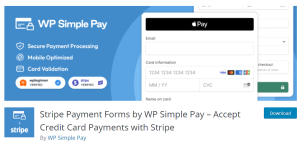 WP Simple Pay is the most convenient way to accept one-time and recurring payments on your WordPress website with a single purchase.
This is useful for selling individual products, collecting fees for services, and accepting donations. WP Simple Pay supports credit card payments, Apple Pay, Google Pay, ACH debit payments, and more. It also offers support in multiple languages ​​and currencies.
Ecwid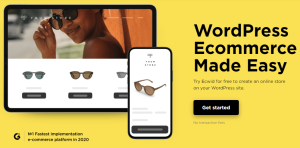 Ecwid stands for "E-commerce Widget." A free WordPress eCommerce plugin, easy to install, customizable, and, above all, manageable. It is highly flexible and customizable with additional features, including purchasing three paid versions: Venture, Business, and none.
A complete and affordable e-commerce solution that includes online stores, mobile stores, and social networks. Sell ​​anywhere, anytime! Ecwid makes it intuitive to access and manage your online store on the go. With this setting up your store is a piece of cake and will help you along the way.
Ecwid works with main carriers such as FedEx and UPS and automatically calculates shipping costs for each item. Taxes for Canada, the US, and the European Union are calculated automatically.
MemberPress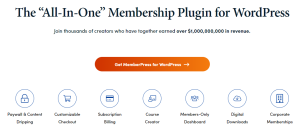 If recurring payments are what you need most, MemberPress could be the WordPress plugin for you. Designed specifically for the WordPress platform, MemberPress enables subscriptions, memberships, and other recurring payment business models.
With MemberPress, you can view and manage paid subscribers, share individual pages and social media assets, and generate coupon codes. You can also create a community forum with your community of subscribers.
While MemberPress is great for recurring payments, everything you do is for eCommerce. Whether you're looking to sell physical products or run one-time transactions, you should look at one of the other WordPress plugins on this list.
WP Shopify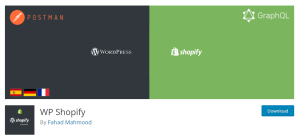 You may not want to build a full Shopify website, but WP Shopify allows you to sell and create your own Shopify accounts on WordPress. You can easily display a single purchase key or a list of products. WP Shopify provides powerful and intuitive ways to display your products.
WP Shopify also builds your account with the template without any customization required. The basic WordPress Plugins installation includes many features you've come to expect from Shopify, including auto sync, which keeps the products you display in WordPress "in sync" with your Shopify store. Detail pages of products to keep your Shopify information in sync with yours. WordPress codes.
Alternatively, you can opt for WP Shopify Pro, which includes additional plugins, PHP Templates, Gutenberg Blocks, Dedicated Live Support, and more.
Shopify once had an official plugin for WordPress, but it's now discontinued. Shopify is focusing more on its Marketplace, an open-source library that allows you to add products to HTML and JavaScript snippets. However, the need to use iFrames limits your design customization options. WP Shopify uses a combination of the Shopify API and the Shopify API to create the iFrame interface.
Conclusion
Based on your online business needs and the kind of products you sell; you can choose the best eCommerce plugin for your store. If you want to create a store with special features, you need a WordPress eCommerce plugin with shipping and data management features. If you plan to sell digital products, you should focus on SEO (Learn SEO Free) so that customers can find you. So, browse through what's important to your store and find the perfect fit from our list above.