Do you want customers to ask your business for a quote so you can give them the best price?
Some businesses must research customers' needs before pricing their products or service. You may add request a quote plugin that allows you to add forms, buttons, and other ads to your WooCommerce site so interested customers can quickly tell you what they need. These plugins also help you track and manage requests so you can respond quickly and never miss an opportunity.
This post lists the best WooCommerce request to quote plugins and their features.
1. WooCommerce Advanced Request a Quote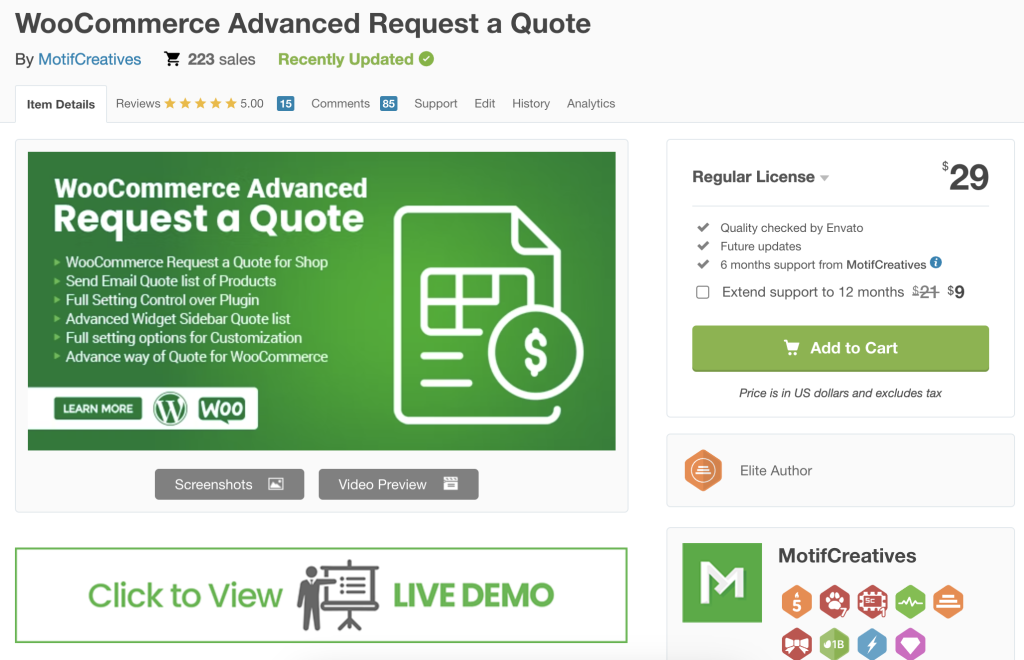 The WooCommerce Advanced Request a Quote plugin allows customers or visitors to receive a quote for products on their wish list. This installation allows the site owner to provide customers with discounts, promotions, prices for particular people, or standard practices based on the situation or the event.
Clients/visitors can also trade at a reasonable price, and the site owner has the right to accept or reject negotiations. Request a quote for WooCommerce plugin that allows a visitor/customer to add items to their cart, remove items, view a list of items added to the cart, and request a purchase.
Features of WooCommerce Advanced Request a Quote
Show the "add to quote" button on the shop page
Show the "add to quote" button on the product single page
Hide button for some products
Show and hide the "add to quote" button only to log in and guest users
Hide prices on all products for your site
Customize full style and color for quote list, button, and whole setting controls.
Set and hide information in the quote list like SKU, Image, Price
Hide and show the option to display total and subtotal
Redirection control over all functions
Form to send quote email to admin
Nice email template which displays all information about the user and quotation
Option to add quotation list on any page
Show tax on the quote page list
Full setting option to control quote list
2. Woosuite WooCommerce Request a Quote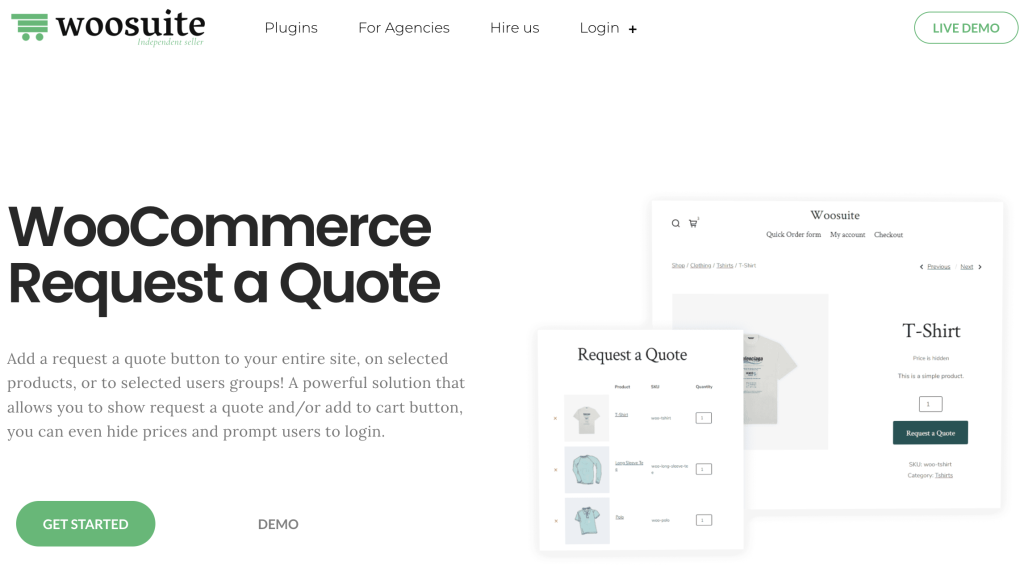 Woosuite provides an integrated query and quotation plugin to help you automate your website features and grow your business. This is an excellent addition to an advanced advertising system.
This allows users to submit one or more quotes simultaneously by adding them to the submission basket. You will also receive an email notification when users add new requests. You can also manage various requests and quotes with a bit of customization.
Woosuite allows you to prepare your registration form according to your needs. You can customize the quote form and add fully editable fields to suit the website's needs.
3. WooCommerce Request a Quote & Price Negotiation (we launch)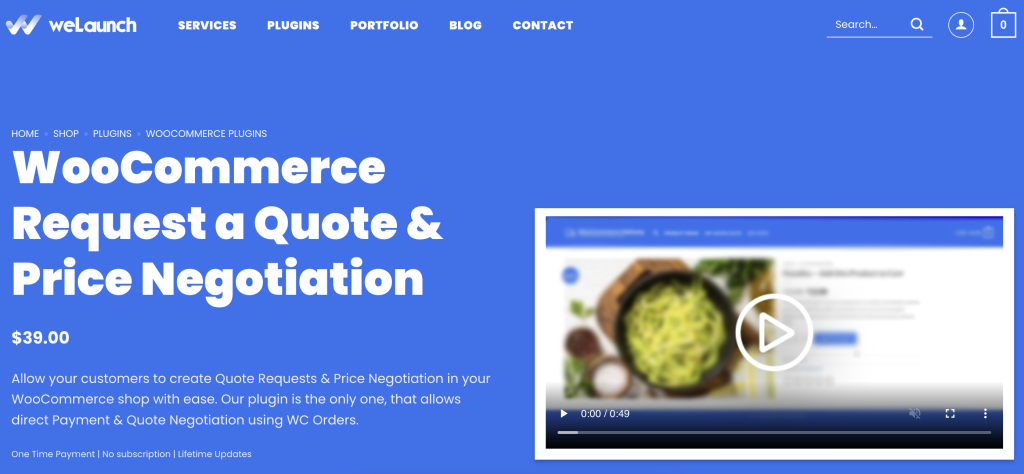 If you are a WooCommerce user, you may be familiar with ​​using extensions to add additional functionality to a plugin. Formidable can do everything that this WooCommerce extension can do. But we still highly recommend it to some users looking for WooCommerce pricing.
But it can be a good RFQ option if you need a no-plug solution. There are a few basic features that work great without requiring any effort on your part.
The main feature of this plugin is that it allows you to hide prices and add them to the cart so your customers can request a standard offer for all products. If you want to keep the price down for your customers, this will work (although we're still determining why you would want to).
4. ELEX WooCommerce Request a Quote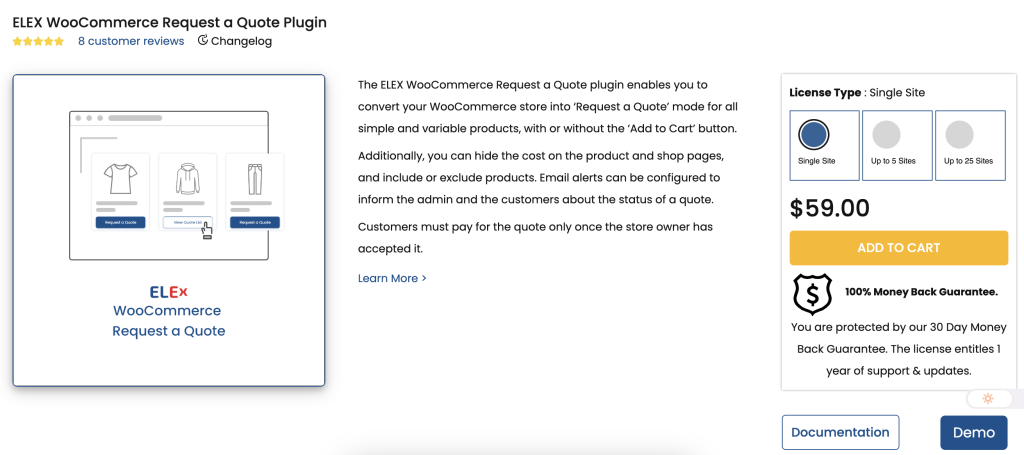 The plugin allows customers to leave a comment request on your WooCommerce store. The plugin is reliable and user-friendly when it comes to using it. Interestingly, you can add to Cart and Add to Quote buttons to your WooCommerce store.
This will make it profitable for regular customers, wholesalers, or retailers to buy in your store. You can also use the "Add to Offer" option for selected products and spare parts.
With this application, you can find the "Request a Quote" link on your store page or a page with more products according to your business requirements. In addition, you can even select a list of selected products and forms from any page. The plugin lets you set up notifications for new quote requests from customers using Twilio webhooks and Google Chat.
5. YITH Request a Quote for WooCommerce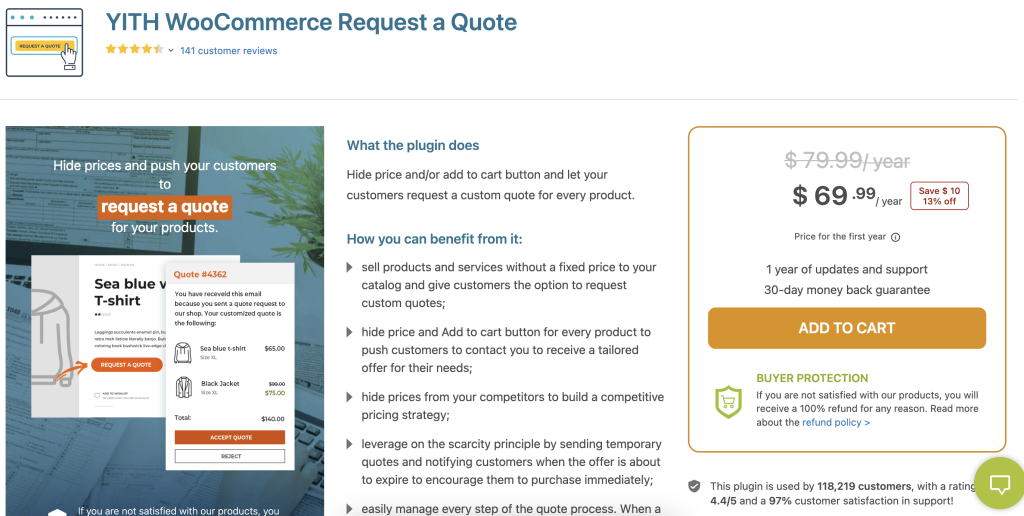 While the YITH app is an account for WooCommerce, certainly one of the best for managing WooCommerce quote requests, others are available.
Many categories are available by submitting a quote request. This free plugin can be added to your website to facilitate RFPs. Your customers can get more information about the price you offer by clicking on the easy-to-use request for information button.
In addition, this plugin provides many options to hide prices and add-to-cart buttons. This way, your customers will be encouraged to ask you for a price for their purchases. To use the plugin, the manager must create a custom quote and request a quote page that can respond to the user's emails.
6. WisdmLabs Product Enquiry Pro

WISDM Product Inquiry Pro is one of the most popular and trusted WooCommerce Quote Generator plugins. This makes it very easy to set up a complete password management system in no time.
With its unique features, you can encourage customers to request a quote for convenience or product sharing. In addition, the plugin breaks the stereotype about the "custom quote" feature. It allows your customers to ask questions/concerns about your products with the Inquiry button.
7. NP Quote Request WooCommerce Plugin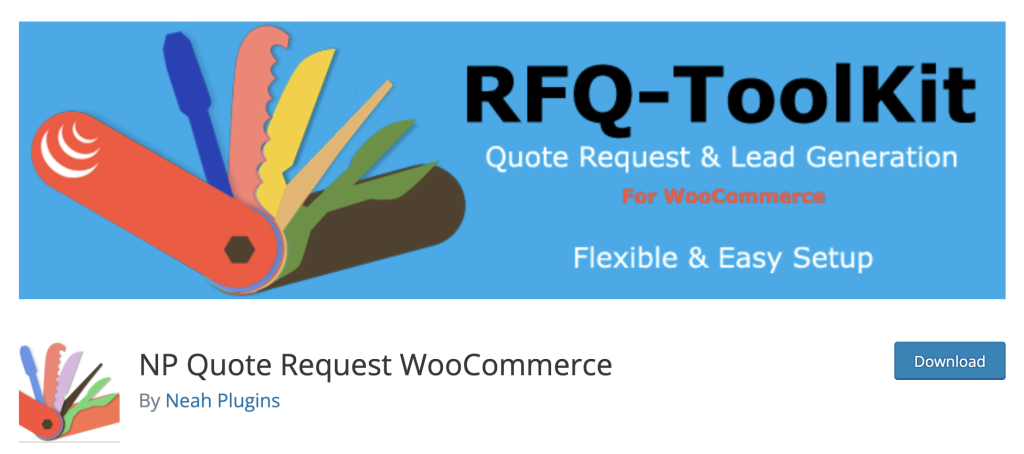 If you want to make it easy for customers to request quotes, "NP Quote Request WooCommerce" is a very popular plugin that you can use. If you allow requests for quotes on your website, other products will only be able to receive quotes if they are specifically designed for simple or flexible products.
However, standard products are available after the customer completes the checkout process. In the plugin, users can control the display of product prices. Also, consider adding a widget to your site that will allow visitors to leave additional comments.
Finally, this plugin allows you to insert custom HTML elements above and below the RFP.
8. Wpbean WooCommerce Request a Quote 

The Easy WooCommerce plugin is simple and time-saving. With this, your customers can request an estimate and a change-over price against payment using the "Request to Quote" button directly on the product page.
This will save your customers from going through the registration process. Once they submit an offer, their registration will be automatically completed. You can send all information about trading quotes, new quotes, and their acceptance or rejection using the automatic email address.
This plugin is unique because it allows you to regularly send detailed information emails to your customers directly from your admin panel.
Conclusion
This concludes our list of the best WooCommerce request-to-quote plugins that integrate easily into the WordPress ecosystem. These plugins improve your WooCommerce store by allowing customers to submit a purchase request for products and quickly negotiate when shopping online.