Are you looking for the best WooCommerce plugins to increase sales?
WooCommerce makes it easy to sell your WordPress website. However, it lacks many of the features needed to run a successful online store.
WooCommerce customizes the main parts of a shopping page very well. But what do you have to do after opening a business? How can you attract the first visitors and make the first sales? There are thousands of plugins for WooCommerce users, and I know you want to choose the right ones for your business. The Best WooCommerce Plugins that boost sales are here.
It's All About Improving Your Store
It is not how plugins use the latest strategy or the newest technology on the market. When I decide which add-on I want to install, I ask myself, "Which plugin will help my store grow as fast as possible?" For me, developing a business means creating a more enjoyable experience for customers, simplifying business management, and, of course, making a profit.
Online stores can achieve that by:
Attracting more customers
Increasing customers' average order value
Increasing customer retention
If you can improve on some of these points, you will make more money. If you can upgrade all three, you will make a lot more money. The good news is that you don't have to create these functions yourself. Instead, you can install the plugin and achieve your goals faster.
Let's take a look at some of the best plugins you can find on the WooCommerce extensions page and find WordPress plugins to help your store make more money.
Best WooCommerce Plugins to Boost Sales
Extra Product Options (Custom Addons)
The Extra Product Options (Custom Addons) for WooCommerce by ThemeParrot is a powerful tool that can help boost your sales. With this plugin, you can add custom options to your products, such as colors, sizes, and more, allowing customers to easily personalize their purchases and find what they're looking for. It is user-friendly and easy to set up.
Improving customer experience is crucial in today's competitive online marketplace. The plugin enables you to provide an excellent shopping experience by allowing customers to customize their purchases. The plugin is fully responsive, so it works seamlessly on all devices.
Also, you can choose from various pre-built templates and layouts or create your own. The plugin is fully compatible with other WooCommerce extensions, so you can add even more functionality to your store. Overall, this plugin is a must-have for any WooCommerce user looking to improve their online store.
WooCommerce Points & Rewards
I love customer rewards programs. If your business gives me bonus points, I will be referring more to your website and placing more orders because I want to use those points. This is where psychology comes in because when you give your customers points, they don't want to waste them. They feel like they want to place another order to use these things effectively.
With the WooCommerce Points & Rewards extension, you can specify different ways to collect points, such as place subscriptions, subscribe to a newsletter, and write reviews. The customer can then redeem points and receive a free product or discount on a future order.
This is a great way to increase customer loyalty. You can also increase the average order value of your customers by adding a customer rewards program.
WooCommerce Popup Cart is a simple plugin that has a handy feature. You can continue browsing the shop with the plugin. You can add all items to your shopping cart without going to the shopping cart page.
Clients don't have to wait for a page refresh. The item added to the shopping cart will be immediately displayed with the "View Cart" and "Checkout" buttons so customers can choose where to go.
With the WooCommerce popup cart, you can add product recommendations by category or product and resell them in a popup window. This feature encourages the buyer to add to the cart to increase order and sales value.
Wholesale Suite
Wholesale Series is the best WooCommerce plugin for wholesalers. The bulk kit contains several bulk extensions that will turn your website into a wholesale adult store.
Extensions:
Wholesale Prices: Set wholesale prices, minimum purchase amounts, additional discounts, separate taxes from retail customers, and more.
Bulk Job: Create an AJAX job that can be searched and categorized.
Wholesale Guide: Customize your wholesale login and registration pages. Also, set up a bulk mailing.
Cart Notices
Online store buyers expect free shipping. Fortunately, they do not always expect unconditional free shipping. This means that your store may have a minimum order quantity that allows customers to receive free shipping. With travel notifications, customers get the expected free shipping and can earn more.
By offering free shipping, you can increase your sales by 30%. And the key is simple. You need to inform customers about free shipping options.
This WooCommerce plugin allows you to create your posts and choose different types of displays. Let customers know how close they are to open free shipping or which products are eligible.
Booster for WooCommerce
As the name suggests, Booster for WooCommerce helps you improve your WooCommerce store with many powerful features. This is a free plugin that you can download and use for free.
With this plugin, you can manage the prices and currencies of your WooCommerce products, such as adding all world currencies and add a global discount to all products. You can also manage buttons and price tags, products, carts and payments, payment gateways, shipments and orders, and more.
If you want a free solution to your WooCommerce store's different needs, you can try it.
YITH WooCommerce Quick View
The YITH WooCommerce Quick View plugin allows you to add a quick view option to your store that allows your customers to instantly view product details. When you click the button, users will see an enlarged product image, a product description, and an Add to Cart button in the lightbox.
This gives potential customers a quick overview of the product and increases their chances of buying.
Free Gifts for WooCommerce
Online store owners are constantly looking for ways to satisfy their customers to sell them more products. One proven strategy that will attract customers and encourage them to buy more from the site is offering them free gift products.
WooCommerce is a popular plugin for building an online store, but offering free gift products is only possible by installing the plugin on this platform. Therefore, if you want to attract customers by offering free gifts, you can use the free gifts for the WooCommerce plugin.
By installing WooCommerce free gifts plugin, you can use different methods to provide free gift products to your customers by creating various rules. For example, suppose you want to increase the sales of a specific product. In that case, you can choose strategies such as BOGO, Buy x Get y, and encourage the customer to place an order for that product so that the free gift is automatically added to his shopping cart.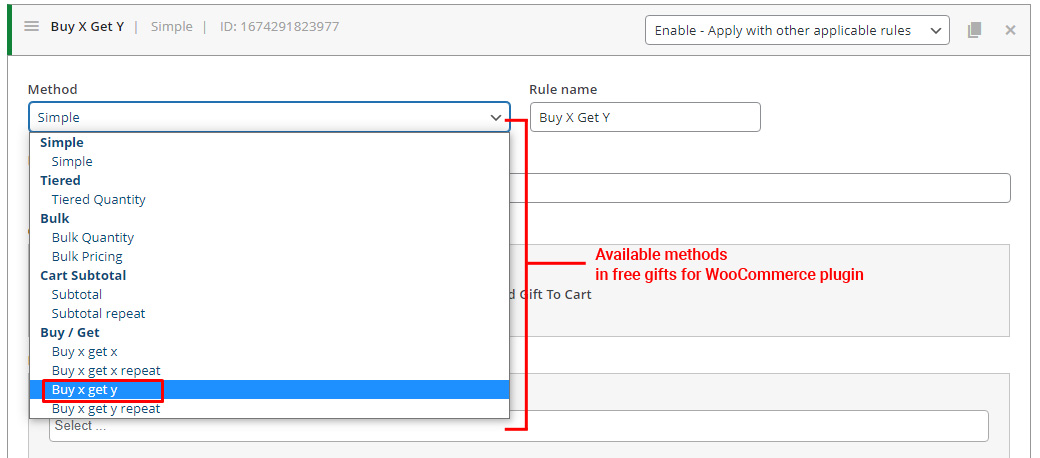 Also, the free gift plugin for WooCommerce allows you to multiply your sales on various occasions, such as Black Friday, Christmas, etc., by offering gift products in a specific time frame.
Another way to encourage customers to buy from your store again is to offer a free gift to buyers who place their orders on your site for the first time.
There are no limits to the strategies you can use to increase sales by creating rules in this plugin. If you are looking for an ideal solution to provide gift products to your customers in your WooCommerce store, take advantage of the opportunity and plan to multiply your sales by installing the free gifts for the WooCommerce plugin today.
Advanced Coupons
WooCommerce has a primary coupon feature that prevents you from creating coupons that enhance your modern marketing campaigns. The extended version of coupons is useful.
Advanced Coupons is the best WordPress coupon plugin with all the great features:
Buy One Get One (BOGO) Deals
Free gifts
Loyalty program
Coupon usage conditions
Summit it all Up
The user experience is at the heart of your WooCommerce store – you must always remember that. That's why this ultimate WooCommerce guide to the best add-ons focuses primarily on making your business usable, simple, and easy to navigate.
When planning everything, keep in mind that your WooCommerce is not just about bringing in reins. Your central theme doesn't have to be a one-time sale. Instead, look for repeat sales and convince customers to keep coming back. Optimize your WooCommerce shop with all these factors in mind.
If you use these WooCommerce plugins, you will surely see a significant increase in sales.